A dance floor does not only double as a stage in weddings, they also make a statement about the reception's overall feel and ambience. Placing the dance floor at the center invites everyone to join in on the fun, while a multiple-stage layout creates anticipation for an entertainment-packed program. The design of the stage is also often customized to match not only the program, but the styling and decorations too! A cohesive and well-designed dance floor can really make the difference in completing your vision. Are you still looking for ideas for your own set-up? Go ahead and check out the personalized dance floors that tied together the design elements of these stunning weddings. Whether you're envisioning something modern minimalist or all-out glam, we've got some inspiration for you!
1. Mikael and Megan's Wedding in Subic 
Can it get anymore unique and personal than with your endearing pet names? Mikael and Megan chose to personalize their dance floor by printing "Bonez & Fofo," nicknames only they fondly call each other. We also loved the cozy couch placement, which kept guests close to the action all night long.
2. Jerome and Tiffany's Wedding in Balesin 
With tropical details incorporated in the invitations, the accessories, and the wedding cake, Jerome and Tiffany definitely maintained the consistency with their dance floor too! Palm tree leaves and vibrant flowers enveloped the couple's initials for that perfect balance of personalized and thematic in its design.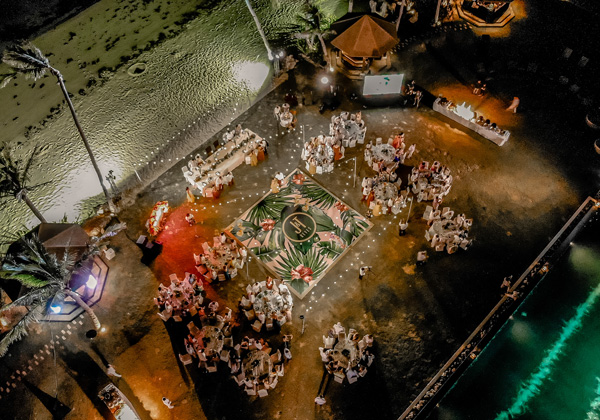 3. Michael and Karen's Wedding in Bali
For something classic and chic, how about a dance floor featuring your wedding monogram? You can even have it printed in gold or silver foil for an elevated look and feel. Whether it's made of wood or any other material, it will definitely make dancing a lot easier (and more comfortable) and resolve any stiletto-sinking-into-the-grass woes.
4. Basi and Nikki's Wedding in Bohol 
How about something minimalist, with an artsy twist? Keep it simple with just your names, but still cute by printing them in distinct cursive. We definitely think Basi and Nikki were successful in recreating that music festival experience for their guests to dance all night long!
5. Renz and Joselle's Wedding in Makati 
If you're not one for words, you can always let pictures do the talking. Renz and Joselle really got creative with their monogram and made sure it was maximized throughout the wedding details. Look out for their fun and playful monogram on the stage, the menu cards, and the wedding cake too!
6. Miguel and Natasha's Wedding in Makati 
A black and white checkered dance floor will never go out of style. Take a page from Miguel and Natasha's big day, and you'll see why you can't go wrong when you opt for timeless styling. From the dance floor, to the flowers, and the fashion, every detail was picture-perfect.
7. Enzo and Jam's Wedding in Taguig 
How elegant does this circular set-up look? With connecting runway-like stages that surround the majestic orchestra, it looked straight out of a fairytale as Enzo and Jam had their first dance. The stage was painted an immaculate white, so the couple's golden monogram took center stage.
8. Ziad and Julia's Wedding in Bohol 
For their rustic chic reception under the stars, Ziad and Julia chose a sleek dance floor customized with their initials. To tie it in with the natural beauty surrounding them in this Bohol beach resort, native palm trees were also incorporated into the design.
Tagged: Anne Naig Photography / Benjie Tiongco / Dave Sandoval / Gideon Hermosa / Ian Santillan / Metrophoto / Nelwin Uy Photography / Nice Print Photography / Precious Bali / ProudRad / Rainbowfish Photography / She Dreams In Ink / Spruce Floral Designs / Teddy Manuel