Are you planning to have an intimate wedding outdoors? Perhaps you are thinking of having it in a garden, a beach, or somewhere with a mountain view, but unsure how you can uniquely style it? If you want something different from the black tie tradition, then why not spruce up your reception picnic-style? Imagine this—luscious cushions, chic blankets, low wooden tables, and colored tents or umbrellas! Plus, you can also dress up your venue any way you like to suit your theme or color palette. Another good thing about this style trend is that it would allow you and your guests to let loose and be yourselves, even for a special occasion such as your wedding! One of the popular wedding trends nowadays is about breaking tradition, right? And your intimate wedding is the perfect opportunity to do it! So, if you are thinking of holding your special day outdoors, check out these simple ideas for how you can throw in some picnic charm for your reception. Scroll down and get ready to take notes!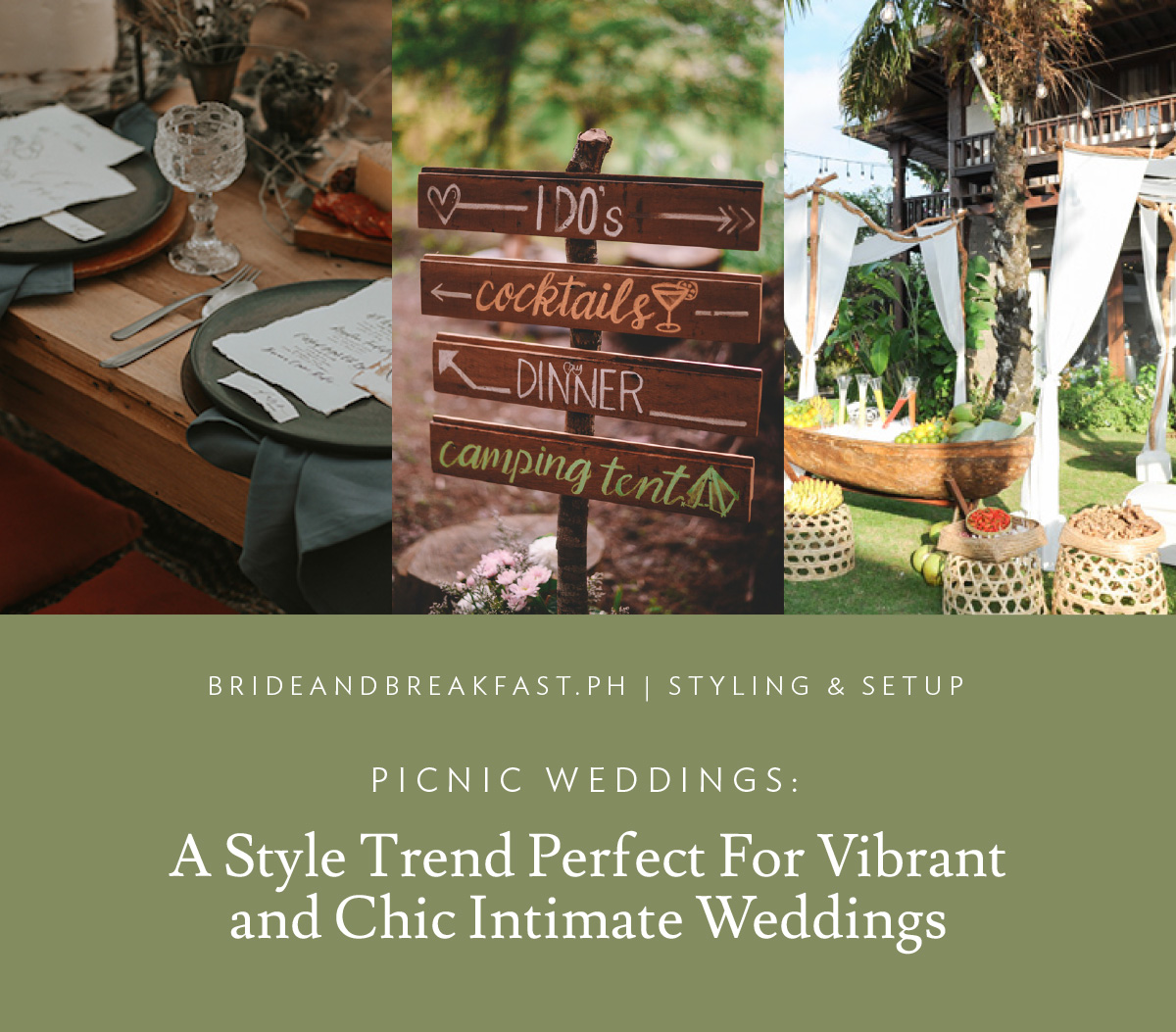 Picnic style is best to match a scenic view, fresh air, and of course, perfect weather. It can be simple or formal, depending on what you both want. You can set the mood by dressing up the venue with some tasteful elements such as pillows, colorful blankets, and rustic timber tables for your guests to get comfortable. Think minimal centerpieces like a foliage runner or jar plants paired with hanging drapes or macrame patterns. You can also set up a heightened canopy tent, if you're worried about the rain pouring on the day. Just light up the tent with string lights to create that magical vibe and you're all set. Check out these styling ideas from real weddings.
Elevate your picnic wedding by serving a fresh menu. Feast your senses with light, grab-and-go culinary creations styled it in a creative manner. Think customized grazing boxes per picnic table, pass-around finger food, and of course, bubbly in champagne glasses. It will help keep your guests full, but at the same time, not compromise accessibility and taste while sitting comfortably in cushions and blankets. Perhaps layers of cheese, canapés, bread, and fresh fruits on a bed of evergreens on a bare wooden table would create the perfect whimsical rustic feel. Take inspiration from these images below.
Picnic receptions are meant to be fun and cozy. Thus, it can only happen if your guests are dressed comfortably for the occasion. So if you plan to go this route, you need to communicate that your wedding will be outdoors and picnic-style. Then, you can leave it to your guests to dress accordingly after relaying the details. Another idea is you can have a separate card in your invitation suite for the dress code and color motif, so guests know exactly what attire best fits the occasion. Keep scrolling for some styles you might fancy. 
Your picnic wedding will not be complete without games and dancing! You can do interactive games to keep your guests engaged. If you're up for it, we're thinking a sack race, tug of war, beer pong, or even giant Jenga. For guests who want something chill but fun, you can incorporate card games, puzzles, and board games on the floor. Come nighttime, leave to your guest to transition from playing to dancing the night away. Feast your eyes on the fun activities from these weddings.
Yes, you read that right! There are plenty of details you can play around with for your picnic. For instance, you can opt to put in beautifully set up chairs and tables on the side to make it comfortable for your elderly guests. Remember that not everyone will feel comfortable at a picnic table for hours, so more accessible options will definitely help. You can also create dainty signages or an inviting rustic-themed bar for your guests to enjoy. Finish the day by surprising your guests with fireworks or a fire dance show. There are so many things you can do with this picnic wedding style! Plus, there are plently elements you can D.I.Y. too. Scroll down to see how these couples did it.
Got more picnic reception ideas? Feel free to share it with us in the comments section!