We fall in love with the terno and barong because of their effortless elegance and rich history. Today, Filipiniana fashion has evolved–think cropped tops, detachable sleeves, and pantsuits, for starters. In this latest collection of Kultura, you'll find traditional attire transformed into stylish, timeless pieces with endless possibilities for putting together a Filipiniana wedding that's modern and sophisticated for you, your groom, and even your entourage!
Go From Romantic to Glam
Reimagining Filipiniana fashion even further, Kultura cleverly offers removable sleeves! We all love a quick outfit change from the ceremony to the reception, don't we? You can instantly switch up your look from a romantic one with bell sleeves to a glam strapless number. If you're envisioning that ethereal look with a hint of drama, this one is made for you!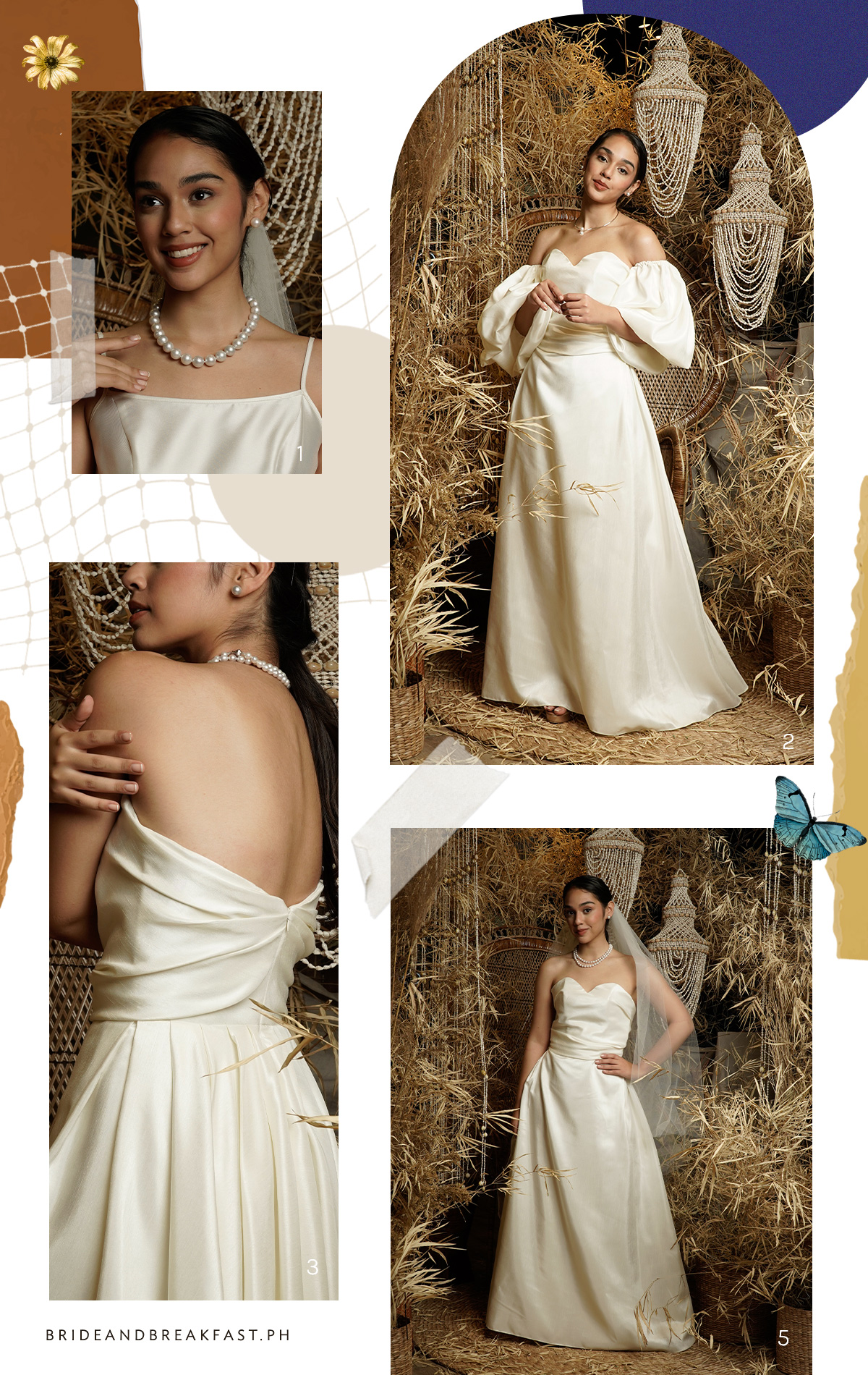 Mix and Match to Get Your Own Look
Make your own unique look with Kultura's range of tops and bottoms that mix and match. Butterfly sleeves, long sleeves, hand-embroidered, or beaded, there's definitely something that will suit your taste. What makes this collection remarkable is that you're not limited to just one theme. Minimalist, classic, romantic, rustic—-name it, and you'll discover the perfect pieces that capture your vision for your dream wedding.
The Terno Turned Into a Chic Dress
Who knew there were so many fashion possibilities with Filipiniana? Beyond convertible gowns and multifunctional boleros and blazers, the terno is given another refreshing spin as chic and modern dresses. It's the best of both worlds where you can recreate classic Filipiniana while being on-point with current bridal trends of minimalism and subtle sophistication.
Blazers and Pants for Sleek Style
Filipiniana-inspired ensembles are chic yet practical options for civil or intimate weddings, too. If you dream of wearing that trademark butterfly sleeve but with a twist, consider a terno blazer from Kultura's collection. Paired with shantung silk pants, you have a look that is sleek and fresh. Afterwards, the pieces can be worn separately and matched with other items you already have.
Versatile Blazers, Coats, and More
The terno is all the rage now, made even more versatile in the form of boleros and coats from Kultura's new Filipiniana collection. These reimagined cover-ups elevate your outfit across different occasions, be it an intimate wedding, engagement party, bridal brunch, pamamanhikan, or despedida de soltera. Instant sophistication!
Level-Up the Barong
Kultura also shines the spotlight on the Grooms with a selection of barong tagalog perfect for a milestone as special as your wedding. Intricate,
hand-embroidered details adorning the sleeves, cuffs, and the back take the sophistication of the barong tagalog to the next level. Your groom will strike a dashing figure next to you in a beautifully made barong from Kultura.
Shake It Up With A Barong in Blue or Black
Gunning for a revolutionary look? Consider a barong tagalog in blue or black! These unusual hues bring fun and excitement to a formal, traditional piece. Your rebel Groom will surely make a style statement!
Endless Combinations for Any Wedding Theme and Motif
Coordinate beautifully with your wedding party with a wide range of options from Kultura. Putting together a Filipiniana look for your bridesmaids is easy-peasy with terno tops paired with silk and satin skirts. Play around with different color combinations to match your wedding's palette; neutrals are always classic, or complement sweet pastels with dramatic black for a stunning look. And don't forget the accessories: baroque or south sea pearl necklaces and earrings add that final touch to your bridal party's outfits!
Check out Kultura's Filipiniana Wedding Collection. Order online and get a 10% discount on your first purchase when you sign-up. Visit our stores to pre-order your favorite looks for you, your groom and entourage.
For more information you may reach us at the following channels:
Messenger : m.me/KulturaPH
Call To Deliver: 09175174096 or 09676093407
Website : www.kulturafilipino.com
Viber: bit.ly/KulturaOnViber
Stores: https://bit.ly/KulturaStores