You've likely seen the dress code "cocktail attire" numerous times, beyond weddings even. Typically, cocktail attire is somewhere in between formal and casual wear. It allows you to be a bit more relaxed while still looking dressed up for a celebratory event. But the confusion comes in because "cocktail attire" could vary depending on the venue, season, or the type of wedding you're going to (ex: grand, civil, intimate, etc.). So, let's explore the category of cocktail attire some more. We hope these tips will help you prepare for the next wedding you'll be attending!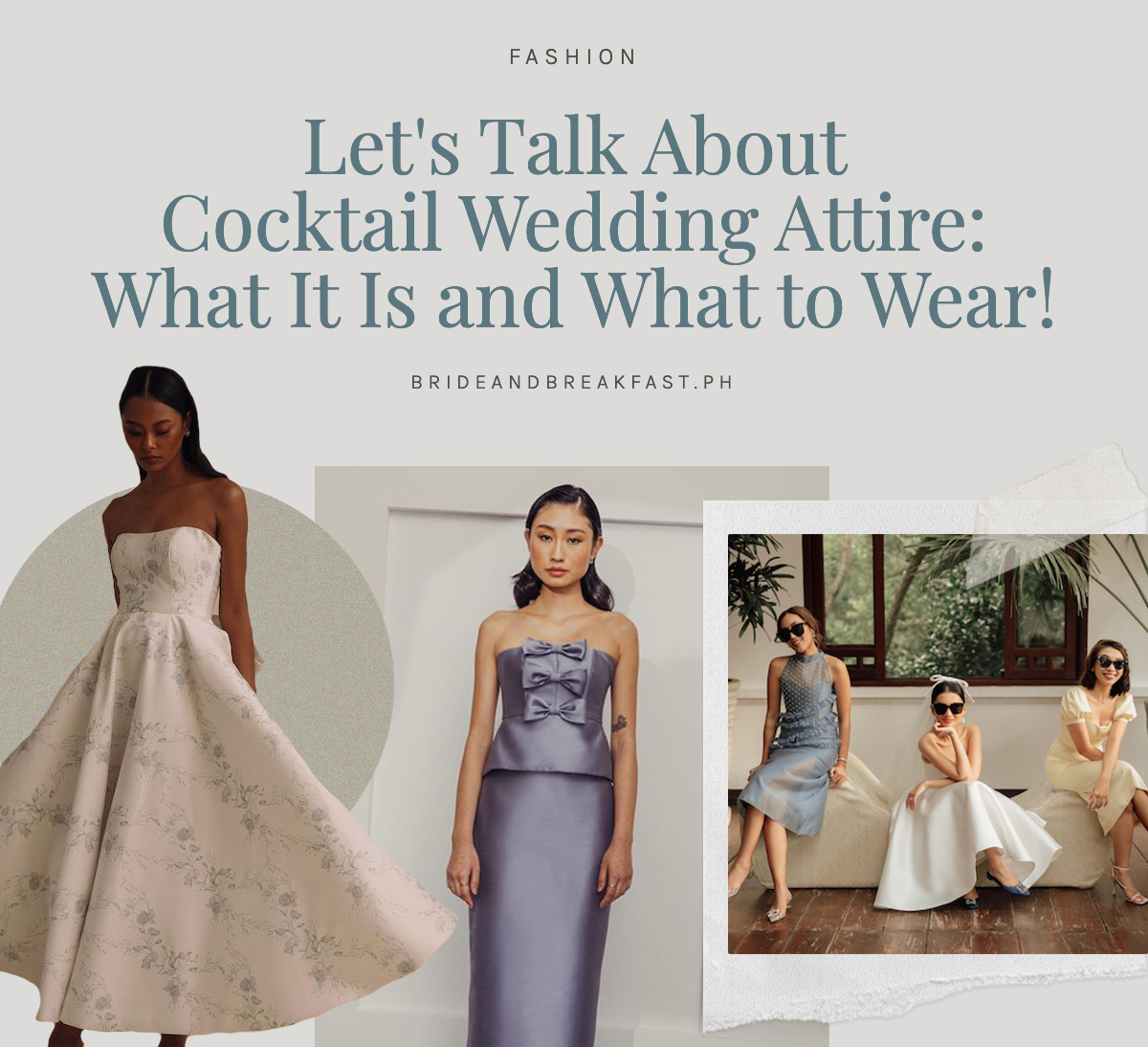 It Means Dressing Up Without Overdressing
For a cocktail attire dress code, the men are still expected to wear a jacket and tie throughout the event. The women, on the other hand, may wear midi or tea-length dresses, or jumpsuits. As long as the skirt doesn't sweep the floor, your attire will fall under the cocktail category, just like these stunning ensembles from Vania Romoff! Maxi dresses with comfier fabrics like linen or chiffon are also acceptable. The rule of thumb here is to simply not outshine the bride. So, ball gowns are definitely a no for cocktail.
It May Vary Depending on Venue
If you're attending a garden wedding, the men may consider lighter grays or pastels to match the atmosphere. The women, meanwhile, can go for florals and softer fabrics, such as this sage green jumpsuit from The Underground Designer. On the other hand, if the venue is a hotel or fine dining restaurant, the gentlemen may opt for darker hues. The ladies can have a touch of sequins or embellishments on their outfits, but not too much! Keep it subtle and chic. The venue itself gives you a clue for how dressy your outfit should be.
It's Also About Appropriate Footwear
Yes, we've seen brides themselves wear sneakers. But, it's their day. As a guest, it's good to stick to cocktail attire etiquette and leave your own sneakers at home. Sensible footwear is key. Ladies, bring out some formal flats if you're not a fan of heels. If you want to skip the stilettos, block heels or low, kitten heels are your go-to. The men can opt for dress shoes that match their belts.
It Asks You to Make an Effort to Look Your Best
While cocktail attire is a bit more laidback than formal wear, it still means making an effort to look polished and classy. It's also a sign of respect towards the couple, and it shows how ready you are to celebrate such a special day. That means no denim, no t-shirts, and no athleisure. The easiest tip to remember about cocktail attire is looking put together without going over the top. Atelier Debbie Co's pieces with prints and patterns are great pegs for how you can achieve that elegant cocktail look!
Got any more questions about wedding guest attire? Ask us in the comments!