One thing to remember when choosing your wedding theme or motif is that it has to be something you'll look back on fondly even 20 years from now! That's exactly what today's couple, Manolo and Miqui, had in mind when they decided on a classic and romantic aesthetic with a neutral color motif for their wedding. Since this couple loves the color gray, it became the dominant hue in their wedding palette. And to liven up the neutral look, they added earthy tones like nude and taupe for the entourage's outfits and pops of blue and gold for the reception tables. Manolo and Miqui kept their entire wedding simple with a sit-down dinner, musical performances by relatives, and just dancing the night away with their family and friends. Trends come and go, but I don't think this wedding will ever go out of style. You'll know what I mean when you start scrolling through these photos by Pat Dy!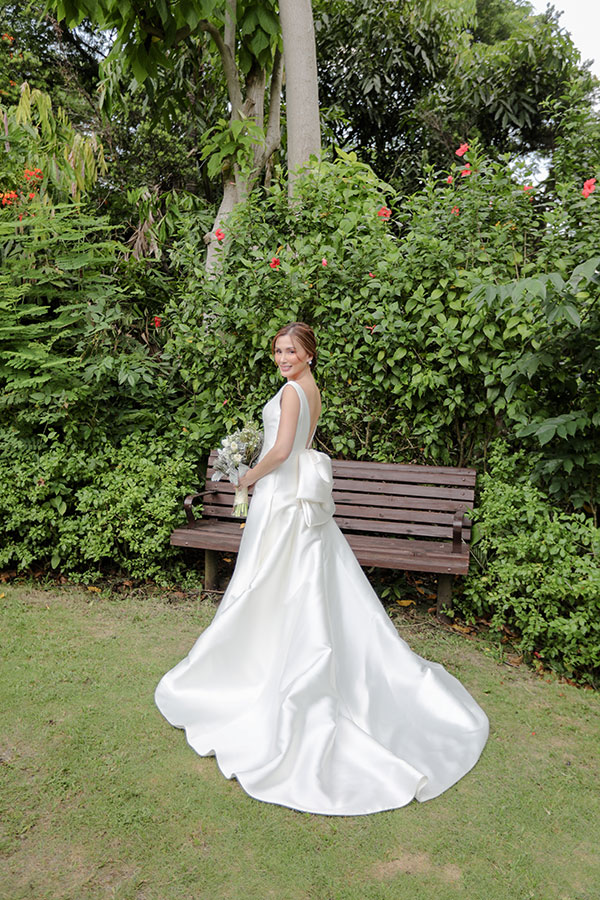 Manolo and Miqui from Bob Nicolas Wedding Films on Vimeo.
What can you tell us about your love story?
"Our love story took 12 years to finally end in a happy ever after. I met Manolo in early 2002 through his older brother who I worked with in an airline company. We talked the whole night the first time we met and there was no denying that there was instant attraction. After several exchanged messages, calls, and a few visits every time I was in town, my work schedule (as an international flight attendant) took a toll while Manolo was still in his last year in college. We ended up with other people.
Fast forward to 12 years after, both our relationships with our partners ended at around the same time coincidentally. He was single again and I became a single mom with two sons. There was no denying that it was so easy for us to reconnect and re-spark something that has always been there. What I had to consider though were my two sons since I had to introduce a new man in their lives. But as soon as the two boys met Manolo, they instantly hit it off and after a few months, it was actually them who convinced us to get married since they wanted to live with him already. Life has been great since then. Our love story is one of a kind but it is also a great testimony to how much we should trust God in the midst of chaos and uncertainty. Everything really happens for a reason."
What's the inspiration behind the theme and color motif of your wedding?
"My husband and I opted for different earthy/neutral colors (medium gray, nude, rose taupe and gun metal) for their clean, pure, and timeless feel. Since neutral colors tend to be a little bland, we decided to make the entourage wear different shades to make it more vibrant and lively especially in photos. Gray was the more prominent one since it is our favorite color. As for the theme, we just wanted timeless, classic elegance and clean lines. Nothing just "trendy." When we chose the clothing, materials, and items, one question that we would always have in mind was how it would look 20, 30 years from now. We wanted everything to still be relevant even years from now so that we can look back and say that we did well and have no regrets choosing something that was just on trend."
What were some of the things that made your wedding day truly special?
"I think what made our wedding special and unique was that it actually was our third wedding on our third anniversary! Our first wedding was 2016 in the US, then we had a civil ceremony here too as soon as we got back, and we finally sealed the deal in church this year. Like what I said in my vows, our love was something so sure that we ended up marrying each other three times in a span of three years. The presence of our three children made it more memorable too! I think the highlight of the wedding was when my two sons, Alejo and Elian, walked me down the aisle to hand me to their Dadski. It really brought everyone to tears. Our one year old daughter, Pilar Santina was our lone flower girl."
What did you envision your wedding to be? How would you describe your wedding day?
"Our wedding came out exactly how I envisioned it. There were a lot of happy tears as our love went through a lot before we finally ended up together. As for the reception, we didn't have a program, just excellent food (we preferred a sit down menu instead of the usual buffet), amazing performance by my much younger aunt Zia Quizon (she is the sister of my Dad) and her boyfriend Robin Nievera, hilarious and entertaining speeches by family and friends, amazing SDE videos by Pat Dy and Bob Nicolas and beautiful fireworks that covered the night sky in Narra Hill overlooking Taal. People partied till the wee hours of the morning with good music from Paolo Maralit and Abdel Aziz and free flowing booze and midnight snacks that included arrozcaldo, sisig tacos, and portobello fries! It was indeed a memorable night filled with so much fun and love."