Countries and continents may be separated by miles of land and sea, but love certainly knows no borders. It's not uncommon to fall madly in love with someone from elsewhere on this earth and of another culture, and our globalized world is making it easier and easier to mix and mingle every year. The result is even more chances to celebrate love in countless different ways!
Wherever you meet your partner and whatever language he or she may speak, the universal language of love might just move you in the direction of choosing to get married. But, if you are a Filipino and they are not, there are some practical things to consider before getting married in the Philippines and we're here to help you out with just that!
Here are the requirements that must be prepared, in conjunction with the usual documents submitted in application for a marriage license, to make your union legal in the Philippines.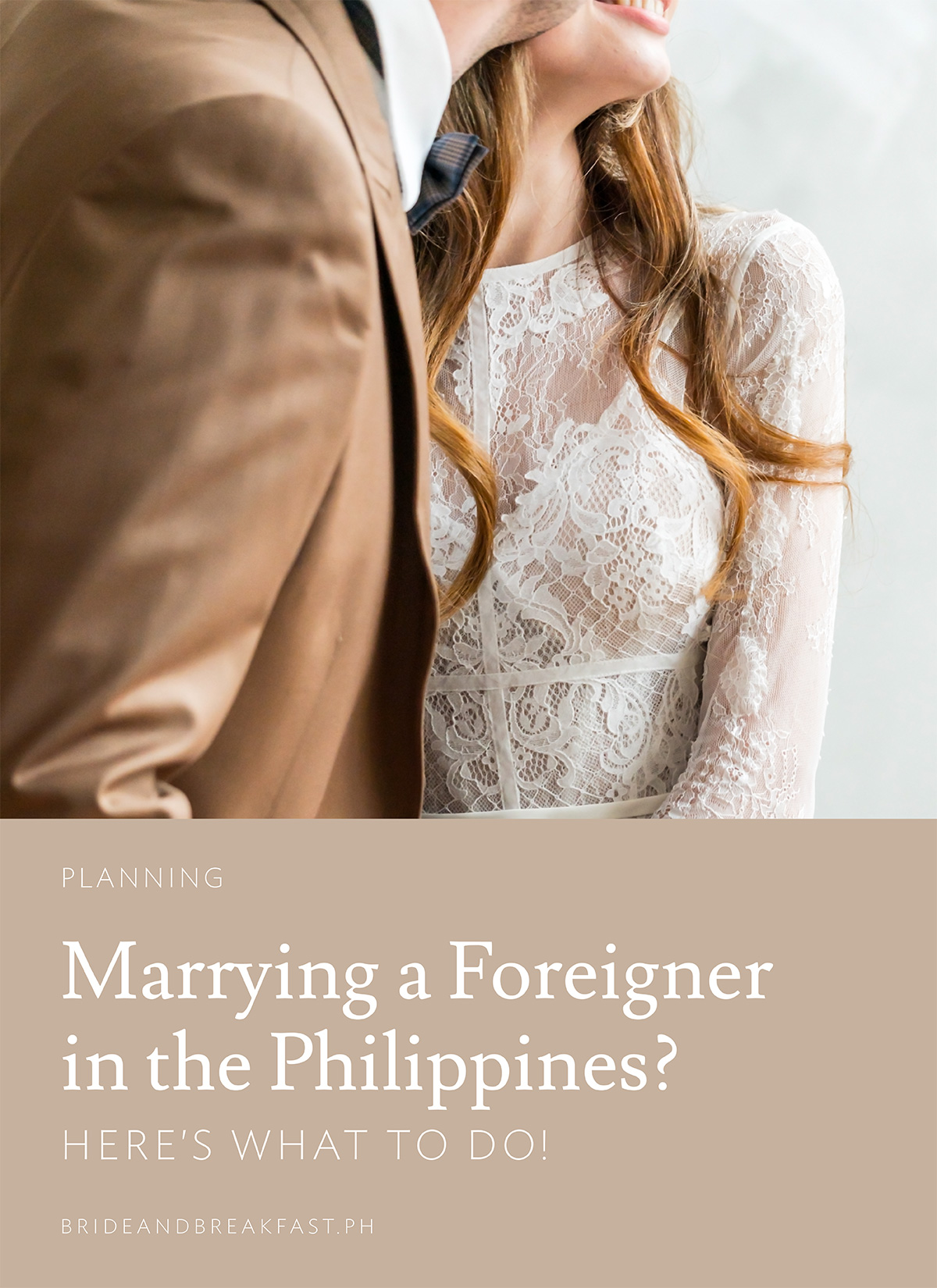 Click to Flip
The Filipino partner establishes legal capacity by presenting documents such as their birth certificate and Certificate of No Marriage Record (CENOMAR)– both from the National Statistics Office.
The foreign prospective spouse must do this too. But in their case by obtaining a Certificate of Legal Capacity to Contract Marriage issued by a diplomatic or consular representative of their home country. This certification confirms that there are no impediments to the foreigner marrying and is the one major requirement that differs from what a Filipino couple would need.
The foreign prospective spouse should check with their local embassy in Manila for specifics on the process of applying for this document. A few web pages with useful information are the U.S. Embassy in the Philippines, United Kingdom Government, the Embassy of Japan in the Philippines, and the Australian Embassy in the Philippines.
Click to Flip
After establishing legal capacity to marry, the couple can then apply for a
marriage license
at the Office of the Civil Registrar in the city where the Filipino partner is a resident. The foreign prospective spouse must of course present the obtained Certificate of Legal Capacity to Marry in addition to proper identification (usually a passport).
Click to Flip
To comply with Philippine law, the marriage ceremony must be solemnized by an individual with legal authority such as a priest, a judge, a city mayor, or any other person authorized by the government of the Philippines. After the ceremony, the officiant, the newly-married couple, and at least two witnesses of legal age must sign the marriage certificate. The result? You are now married in accordance with Philippine law! It is possible that you will need to take extra steps to have the marriage recognized in the foreign spouse's home country. But in the Philippines, you'll be legally married if you follow these simple steps.
Tip: Give your foreign prospective spouse's embassy a call or a visit first. They're likely used to getting these inquiries and are a lot less busy than civil registrars tend to be. You can find a list of foreign embassies in the Philippines here.