Wedding fashion inspiration coming your way! If you're having your big day within the summer months, or if you just want to add vibrant summer feels to your theme, you can make the vibe of the season come alive through your entourage outfits. Entourage fashion is a beautiful way to highlight a summer wedding because you can play around with bright colors, fun prints, and breezy fabric. On a more practical note, you'll also want to match the design of the entourage outfits to the environment you'll be in especially in the summer season where the temperature is higher. So, we rounded up a few pegs to help you out!
Here are chic looks that will make your entourage feel ready for a summer-inspired celebration. Keep on reading!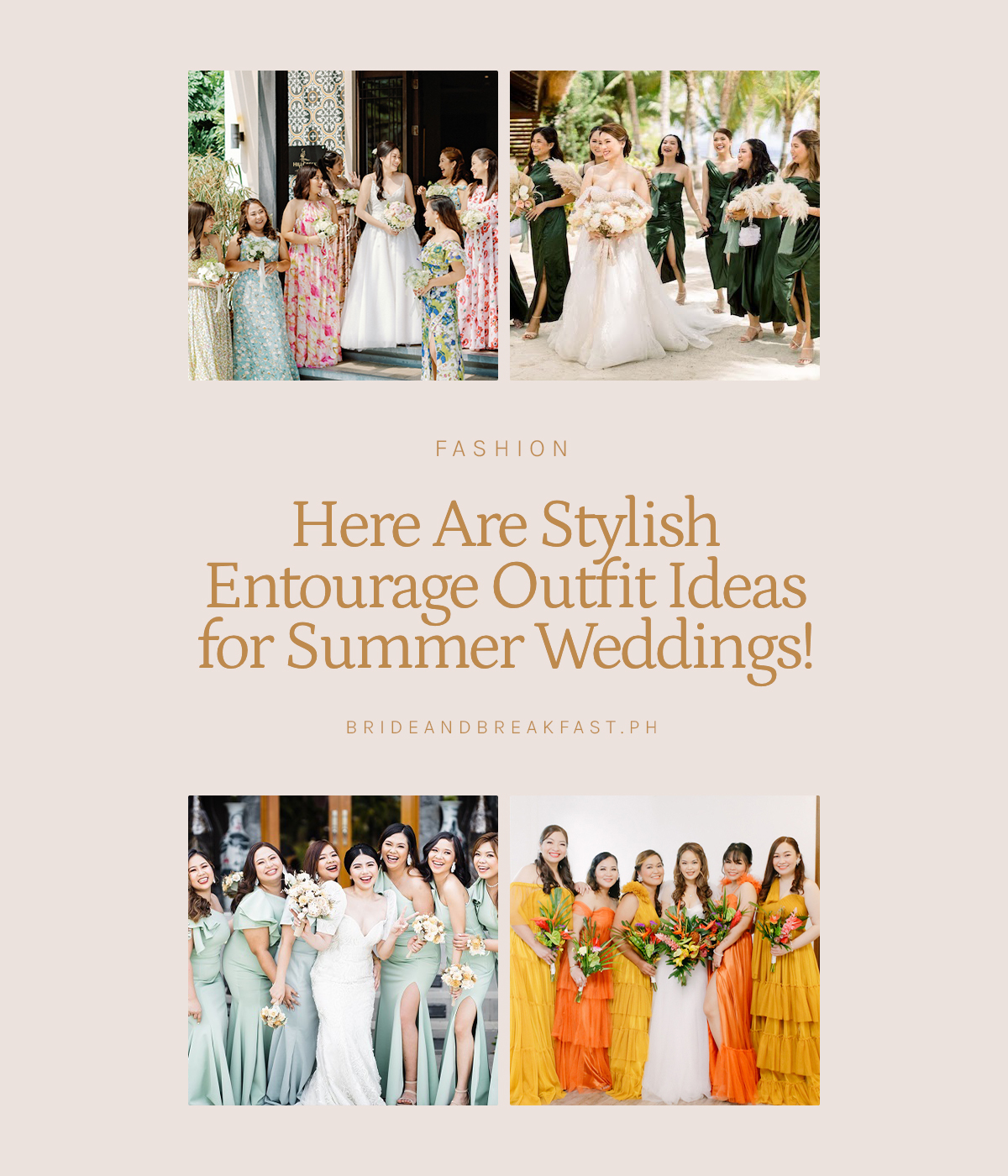 Look how fresh the mint green motif is! And it looks flattering on all the members of the bridal party. Mint is more of a cooler tone, and in our opinion, that's what makes this a fresh hue for summer! A cool color to wear and look at balances out the heat of the season.

Of course we can't forget about the yellow and orange motif which really screams summer tropical vibes. A detail we'd like to take note of here is the tiered skirts. Other than making the style of the dresses so pretty, the tiered skirts add some swing and movement to the attire. The light and breezy fabric makes this summer-ready, too!

A common element in the outfits right here would be the draped skirt. These almost remind us of lovely sarong wraps that you wear to the beach. The length makes it comfy for hot weather, and the ruching plus draped style adds an eye-catching touch!

Emerald green is another beautiful color that will complement a summer wedding at the beach. It's a lovely accent against the sand and sea. A good detail to look at here as well would be the length of the dresses. Choosing a cut that reaches just the ankles is pretty clever because this may make walking on sand easier. You won't have to worry about the girls stepping on their dresses or the skirts dragging on sandy terrain.

Go for floral prints to give more character to the entourage outfits. You can even choose brighter colors and more dramatic patterns, like palm leaves and birds of paradise flowers, which exude a tropical look.

What we're loving about this entourage ensemble is how relaxed and fuss-free it looks. You don't have to be extremely formal when it comes to entourage outfits, you can simply ask your squad to wear something they feel comfortable in and makes it easy to move around. We think this is great for summer because it definitely matches the fun and laidback vibe of the season!

Here's an option for male entourage members. Instead of suit jackets and tuxedos, have them wear button down shirts (can be short or long sleeves), a pair of trousers, and loafers or dress shoes to match. This look feels easygoing without being too casual. Another idea from here is that the men's shirts match the dresses of the women which makes the whole entourage fashion cohesive.