January 2023 saw the beautiful union of Ivan and Sallie, an introverted couple who found their perfect wedding venue in Café Alea Bistro, a local coffee shop in Calamba, Laguna. Their celebration was everything they wanted—quiet, sincere, and intimate, with only 15 guests and a strict no-kids policy.
Sallie took the reins in styling her own bridal look, starting her day at 5:00 a.m. after days with little to no sleep. She walked down the aisle in a stunning Php 2,500 dress from Facebook Marketplace, holding a bouquet of rustic dried flowers. They opted for simplicity in their venue, letting the natural charm of the garden area shine. The wedding details were kept private, shared only at the very last minute, with the entire celebration unfolding just ten days after their engagement.
Ivan and Sallie's wedding story is a beautiful reminder that love doesn't need a grand stage or a big budget. Their celebration was a testament to their love, an intimate affair that embraced their personalities and showed that at the end of the day, what matters most is celebrating love in your own unique way. Take a look at their beautiful wedding through these photos by Roger Sasam and Ian Bernabe.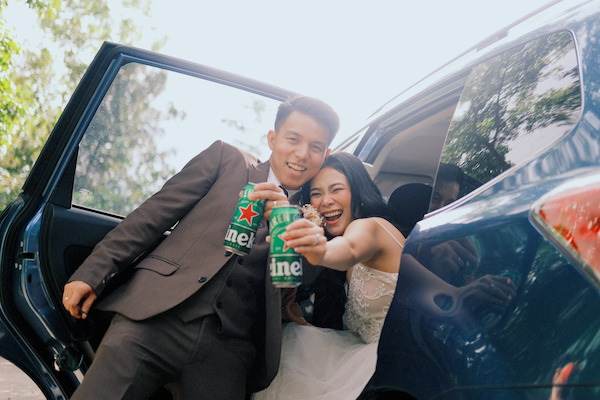 Photography: Roger Sasam, Ian Bernabe / Ceremony and Reception Venue: CaféAlea Bistro / Cake: Baked by Maria


Click here to visit our directory