Jacob and Kally were very intentional about planning their own destination wedding so they could give their guests a memorable experience. They wanted every detail to be meaningful, and for the whole wedding to become a chance for their loved ones to relax and have fun. So, their supposed one big day turned into a weekend-long affair starting with a sunset party to welcome their friends and family. "I really wanted our guests to treat our wedding as a mini vacation, since we've all been deprived from travel because of the pandemic," says Bride Kally.
Among other thoughtful decisions Kally made that caught our eyes is her gown. She incorporated the lace of her mom's gown to her own, and it was such a heartwarming gesture. It meant a lot to her mom, too. The gown's design was consistent with the wedding aesthetic as well— minimalist and elegant. Lastly, how can we not notice the bride's fur baby of ten years? What a lovely idea it was for Kally to have chosen her as the flower girl!
There really are a lot of notable details from Jacob and Kally's wedding weekend. If you want to know more about how they put this all together, Bride Kally shares three useful tips about destination wedding planning. These might just help you with your big day, too! Learn what they are as you scroll through these photos by ProudRad.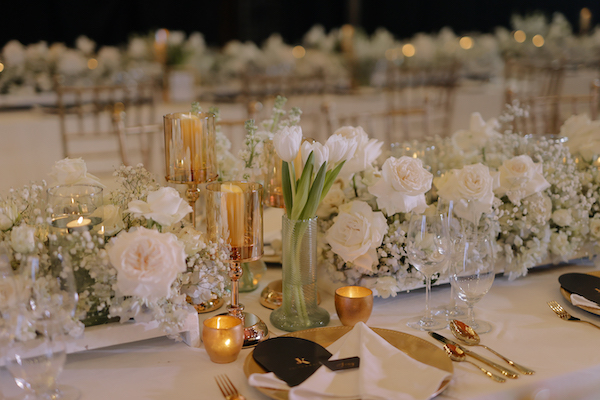 Photographer: Proud Rad | Video: Jason Magbanua | Venue: El Jardin de Zaida, Batangas | Coordination: Maxine Covar Events | Flowers: II Fiore Flower Boutique | Makeup Artist: Thea Dionisio | Hairstylist: Amos Martin | Cake: Miel Cake Design | Host & DJ: Rammy Bitong | Choreographer: Michelle Kawpeng | Lights and Sounds: Artuz 101 | Bridal Robe: Velhagen the Label | Reception Gown: Chynna Mamawal Atelier | Entourage Gowns: Vee Tan Studios | Suits: The Fine Gentleman | Dog's Gown: Pawtelier de Melon | Mobile Bar: The Black Box Mobile Bar

Click here to visit our directory.