As you begin planning your special day, you may have an initial list of popular Churches in mind for your Catholic wedding. What are the things you look for? Some couples are particular about the Church altar or the length of the aisle. Some consider the location and the overall feel of the ceremony venue. If you're still in search for the right Catholic Church for your wedding, we've listed a few beautifully designed ceremony venues within and nearby Metro Manila which deserve some attention! Take a look at them here.

Recently renovated, the Most Holy Trinity Parish is a treasure within Manila. The new design of the parish gives reverence to the Holy Trinity by making use of space, light, and the cross. The whole interior is meant to be a sanctuary, solemn in its simplicity. The modern design and the meaning behind it would make saying your I do's even more special here!
Address: Calabash Road, Balic-Balic, Sampaloc, Manila
Email: mhtp.parishoffice@gmail.com
Facebook: Most Holy Trinity Parish

Named after St. Maria Goretti, the patron of young women and purity, this parish is another gem in Manila. It has a modern appeal from the outside and a more classic aesthetic inside especially with its altar decked in the color gold and filigree. Whether you're having a more traditional wedding or a modern and intimate one, Sta. Maria Goretti Parish is worth a look.
Address: Pope Pius XII Catholic Center, United Nations Avenue, Paco, Philippines
Email: stamariagorettimanila@gmail.com
Facebook: Sta. Maria Goretti Parish

If you're starting your search within the metro, make Saint John Paul II Parish in Eastwood City part of your list. Classic wedding dreams can come to fruition with its red carpeted aisle and arched entryway. Look at how beautifully the bride is framed in this photo!
Address: Orchard Road, Eastwood City, E. Rodriguez Jr. Avenue
Email: saintjohnpaul2parish@gmail.com
Facebook: Saint John Paul II Parish

Another parish that is worth a visit in the Quezon City area is Our Lady of Consolation Parish. The towering façade certainly makes it feel grand, but it would be amazing to host an intimate wedding here, too. One of the notable details are the chandeliers, which you don't see in many other Churches.
Address: 81 Alondras St. Mira-Nila Homes
Email: olcp.recoletos@gmail.com
Facebook: OLCP – OAR Our Lady of Consolation Parish

First of all, the mezzanine area is a brilliant space for photo ops. The structure of the Church also allows natural light to come in, making your photos look even more vibrant. This would be a great venue for morning weddings!
Address: Humabon Place, Magallanes Village, Makati City
Website: St. Alphonsus Mary de Liguori Parish
Facebook: St. Alphonsus Mary de Liguori Parish

For couples envisioning a modern city wedding, St. Michael the Archangel Parish in BGC is a great option. Both the façade and interiors feature clean lines, perfect for brides and grooms who are fans of the minimalist aesthetic. It's a relatively new church within a central business district, and it is dedicated to St. Michael the Archangel who is known to be a warrior of justice.
Address: 10th Ave. Corner 39th Street, Bonifacio Global City
Email: smap.bgc@gmail.com
Website: St. Michael the Archangel Parish

In English, the name translates to Saint Mary of Love Divine, which is a devotional title for Mary. Stained glass windows greet you at the entrance. Can you picture yourself taking your first steps downs the aisle right here?
Address: Southvale Dr, Almanza Dos, Las Piñas,
Email: mddamoreparish@gmail.com
Facebook: Madonna Del Divino Amore Quasi-Parish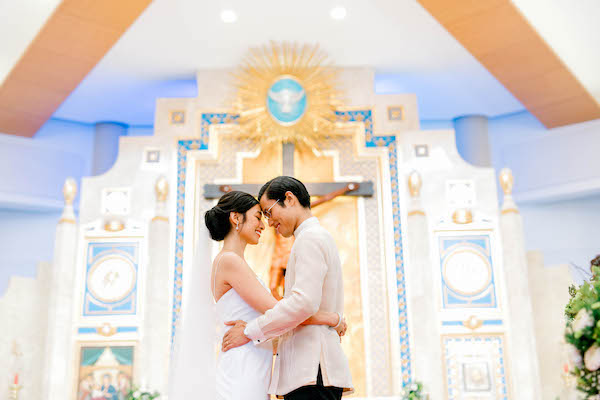 The first thing I think of whenever I see San Pedro Calungsod Parish in photos is a mix of modern and traditional elements. Put a pin on this if you're looking for an intimate ceremony venue surrounded by nature, and sunlight.
Address: Sumulong Highway, 1870 Antipolo, Philippines
Email: spcpantipolo@gmail.com
Facebook: San Pedro Calungsod Parish – Sanctuary of Padre Pio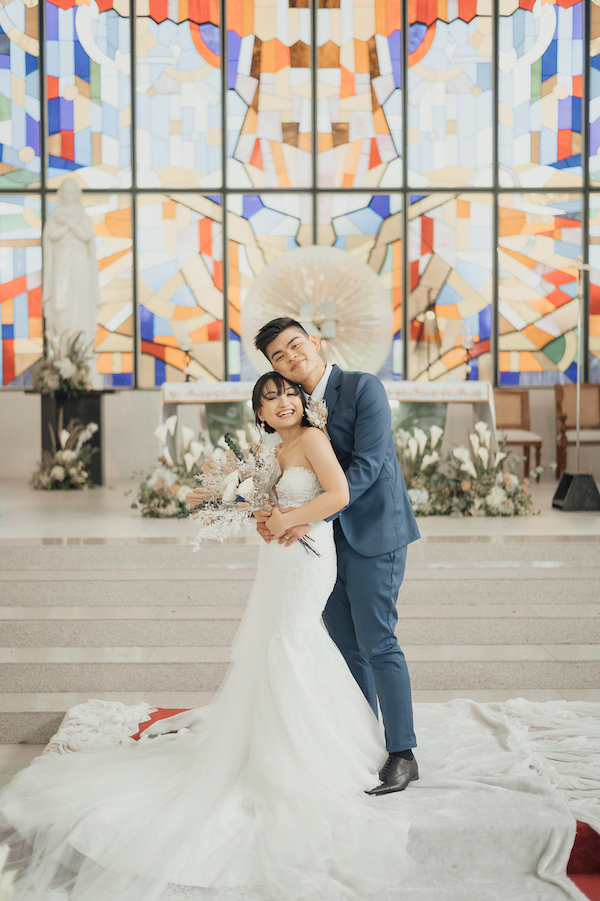 What immediately stands out here is the staircase with a pop of red lining the center. It's surely a striking visual for photos! The architecture also reminds me of a Baroque church, because of its grandeur and hint of drama especially with a rich color.
Address: M.L. Quezon St. Ext. Barangay San Roque, Antipolo City, Rizal.
Email: transfi.office121212@yahoo.com
Facebook: Transfiguration of Christ Parish

Founded in the 1500's, the Diocesan Shrine and Parish of Nuestra Señora de Candelaria is another structure that has stood the test of time. Both the interiors and façade tell us that it has preserved a part of history. Can you imagine having a classic romantic or Filipiniana themed wedding here?
Address: J Rizal, Silang, Cavite
Email: candelaria.silang@yahoo.com
Facebook: Diocesan Shrine and Parish of Nuestra Señora de Candelaria

Another alternative for Tagaytay and Batangas weddings is San Antonio De Padua. It's nearby well-known wedding reception venues, so you get a check for convenience! More than that, the brick structure will definitely take your breath away!
Address: Kaylaway, Nasugbu Philippines
Email: sappwedding0202@gmail.com
Facebook: SAPP – Kaylaway Nasugbu Batangas

The Basilica of St. Martin de Tours, popularly known as Taal Basilica, is the largest Catholic Church in Asia standing at 95 meters in height and 45 meters in width. The Taal Basilica has been in existence for over three centuries, and has undergone multiple reconstructions to preserve its beauty and history.
Address: Calle San Martin, Taal, Batangas
Email: smttaal@yahoo.com
Facebook: Taal Basilica