If convenience is your priority, then a one-stop destination where you can have both your ceremony and reception is a great idea! It can make things less of a hassle, because your venues will be a mere few minutes away from each other. If you prefer selecting all-in packages and saving yourselves the time and effort it takes to scout for a second venue, here are a few options for you to consider.  Not only do these venues answer your wedding needs, but they are also undeniably beautiful!
Palazzo Verde, Notre Dame de Vie Chapel
It's no wonder why Palazzo Verde and its Notre Dame de Vie Chapel are favorites for garden themed weddings. The chapel boasts of giant ferns, and golden arches that give you an ethereal feel. Just a few steps away are Palazzo Verde's various ballrooms, for a reception that makes a statement. Among these are the Grand Conservatory, where a clear dome roof gives you a beautiful view of the sky; byzantine 1 features a small al fresco garden and overlooks a Koi pond. If you're envisioning an elegant, garden wedding, this venue is worth a visit.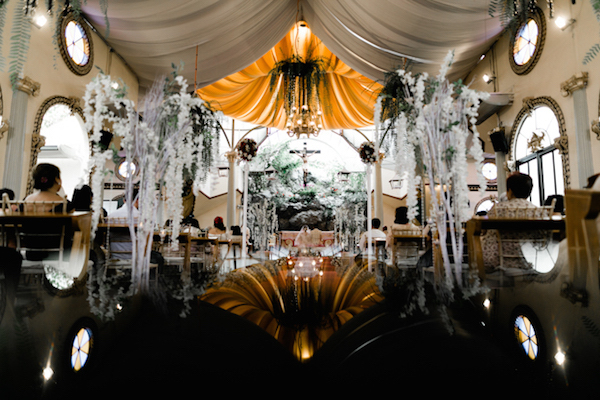 Bella Rosa Gardens, Our Lady of Ephesus Chapel
This is a popular venue for weddings in the Cavite area. What's great about Bella Rosa Gardens is that it's truly a one-stop destination for your nuptial needs – from catering, styling, venue use, ceremony, and accommodations. They have all-in packages for you to consider! Within its property is the Our Lady of Ephesus Chapel, its façade reminds you of a baroque Church, but its cream colored walls gives it a modern look which complements any wedding theme.
Caleruega Church Complex, Transfiguration Chapel
Caleruega Church, or the Transfiguration Chapel, is one of the beloved ceremony venues in the south. The manicured landscape leads up to the brick Church that stands tall atop a hill, and this sight doesn't fail to take your breath away. Not only is Caleruega a prime wedding ceremony location, its Church Complex is also able to host your reception. Among its spaces, suitable for intimate weddings with just your nearest dearest as well as grander events of up to 200 guests, are the Tuktok (roofdeck) and Plaza de Aza, and the Gazekubo.
Tagaytay Highlands, Madre de Dios Chapel
With the lush green environment of Tagaytay surrounding you, it's easy to fall in love with this destination. Nestled in the Tagaytay Highlands properties is the Madre de Dios Chapel. Its modern design is similar to that of Mediterranean houses; the chapel's interiors are comprised of white walls, wood beams, and a red carpet. You need not go far for your reception, because after the ceremony, you may opt to proceed to the Midlands Veranda to celebrate! Take a look at how this couple styled the venue for their wedding.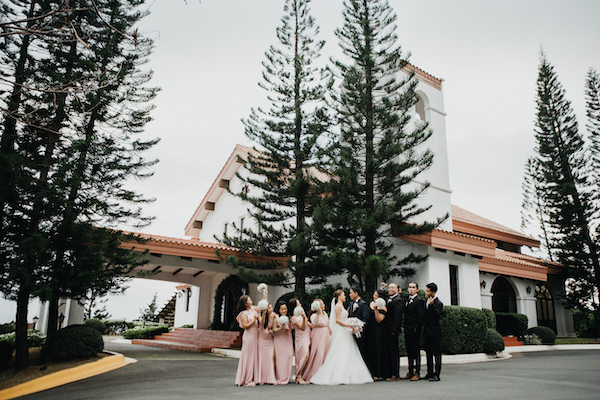 Pico Sands Hotel, St. Therese of the Child Jesus
It's a chapel made with glass walls! The best part? You'll have an incredible view of Pico de Loro. Just picture yourself exchanging vows with the sun, sea, and Pico de Loro Cove as your backdrop. The structure of this glass chapel is definitely thoughtful of its surroundings.
Alphaland Baguio Mountain Lodges, The Chapel
Your wedding can also be an excuse to treat yourselves to a luxurious log cabin vacation in Baguio! Alphaland Baguio Mountain Lodges has it all – fully furnished suites for your stay and preparations, a Clubhouse Inn that can comfortably host your reception, and of course, the Alphaland Chapel for a memorable and solemn ceremony. The chapel's design makes you feel how harmonious it is with nature as you get to experience Baguio's cool breeze while overlooking the mountains. Wouldn't this be a great venue for a classy, countryside wedding?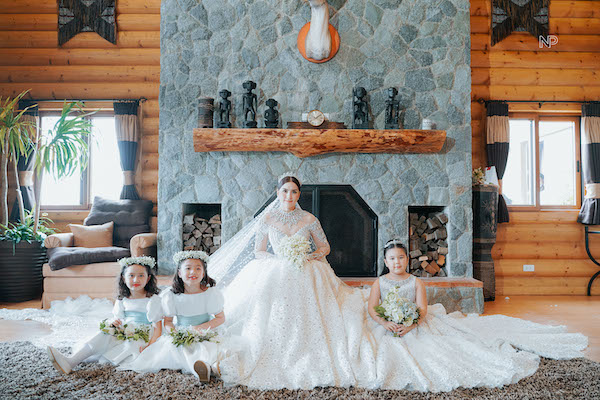 El Nido Resorts, Garden Chapel
Undoubtedly among the best beaches in the world, El Nido Resorts is nothing short of paradise. A group of islands comprise this destination – Lagen Island, Apulit Island, Miniloc Island, Pangulasian Island. You'll also find a few private locations to say your I do's, one of which is the garden chapel, an excellent venue for a private island wedding. Afterwards, you can enjoy a reception under the stars!
Amaya View, The Rock Chapel
Amaya View is located at the highest peak of Cagayan de Oro, which means you'll get to overlook the whole city, and landscape. The Rock Chapel is also a must-visit venue. The rocks under glass flooring suits its name. The clear walls also give you the best view of the mountains and beach! Then, your reception can be blanketed under a multi-colored sky.