Feeling hopeless over postponed wedding plans and unrealistic travel goals? We've got an idea that could get you excited to scan promos and actually make plans! With hotels and resorts offering amazing deals and flexible rebooking options due to the current situation, it might just be the best time to start planning a dreamy honeymoon for you and your other half. From beautiful beaches to romantic resorts, the possibilities are endless—even when you limit the search to destinations near Metro Manila. Feed your wanderlust from the safety of your own home by exploring options for a local newlywed getaway (for once the situation gets better and allows for traveling again). It may take some time and a lot of patience, but it will definitely help to keep your spirits up when know you have better days to look forward to. Happy planning!
Vivere Azure, Batangas 
Vivere Azure is a hidden piece of paradise located by the mountainside of Anilao, Batangas. The resort boasts of a refreshing and relaxing atmosphere where you will surely forget about the hustle and bustle of the city. You can also enjoy a stunning view of the Maricaban islands when you take a dip in their infinity pool.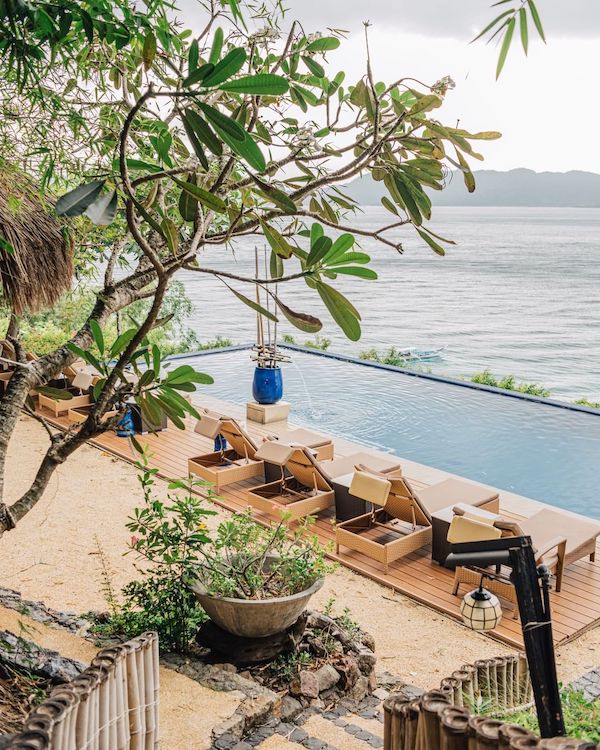 The Farm at San Benito, Batangas 
This haven is not only a tranquil holiday destination, but also a healing sanctuary that promotes mindful movements and wellness activities. The Farm is located on 48 hectares of lush greenery that provide guests with limitless opportunities to interact with nature and enough space to enjoy their privacy. You will also be treated to the freshest farm-to-table cuisine when dining here.
Anya Resort Tagaytay, Cavite 
Whether it's the cool climate or the signature Filipino hospitality, you will definitely love your stay at Anya Tagaytay. Choose from 78 of their luxurious suites to spend your days perfecting the art of doing nothing or as a home-base between the different activities they offer. You can go for self-care at the Niyama Wellness Center, fine dining at the Samira Restaurant, or any other activity from their diverse selection.
Aureo, La Union 
This one's for the water-loving couples whose dream honeymoon is anywhere with the sun, the sea, sand, and the right waves for surfing. This secluded resort gives you access to La Union's golden sunsets and pristine waters, while also offering private pools and luxurious facilities. Whether you book a beachfront villa or a tropical room, it will surely be an experience you won't forget.
Las Casas Filipinas de Acuzar, Bataan 
Explore Filipino heritage and experience the best of Filipino service at Las Casas Filipinas de Acuzar. You get a beach resort, a convention center, and a heritage destination all rolled into one when you visit this gem in Bataan. Whether you prefer to bask in the beautiful architecture or spend your day by the beach, you definitely have a memorable getaway in store for you.
San Rafael River Adventure, Bulacan 
You will immerse yourself in nature and marvel at picture-perfect views when you plan a visit to San Rafael River Adventure. Make sure to choose one of their glass houses for a serene and romantic hideaway. If you're up for some adventure, make sure to fit in some of their unique water activities into your schedule. We're talking a river swing, a floating bridge, and so much more!
Chateau Hestia, Cavite 
Find your home away from home when you check-in to Chateau Hestia. This charming bed and breakfast offers rustic casitas and authentically delicious European fare. Their Garden Restaurant has been serving their unique homegrown recipes to new and returning guests since 2007. You can expect food made with quality ingredients and world-class culinary techniques, coupled with traditional Filipino hospitality.
The Manor at Camp John Hay, Baguio 
Walk down memory lane and create new memories with your better half by planning a trip to Baguio. Picture this: classic wooden cabins, makeshift bonfires, and warming up with cups of hot chocolate. Sounds cozy, don't you think? On day you feel like exploring the city, you can go boating at Burnham Park, take some photos at Mines View Park, or visit strawberry farms at La Trinidad.