The pandemic has tumbled down most of the plans for the year, and that includes weddings. But thanks to technology, live-streaming your intimate ceremony and reception, to accommodate your family and friends on your special day, is now possible! Online weddings are trending, and more couples are now opting to do this, as it is not only accessible but also safer. 
We have received different queries from our B&B Facebook Community on how to pull off a virtual wedding, and today, we are going to respond through this article. We interviewed Kiss the Girl Events (KTG) to give us insights and tips on how we can fashion an interactive digital wedding! So, keep reading as we give you some useful tips and information!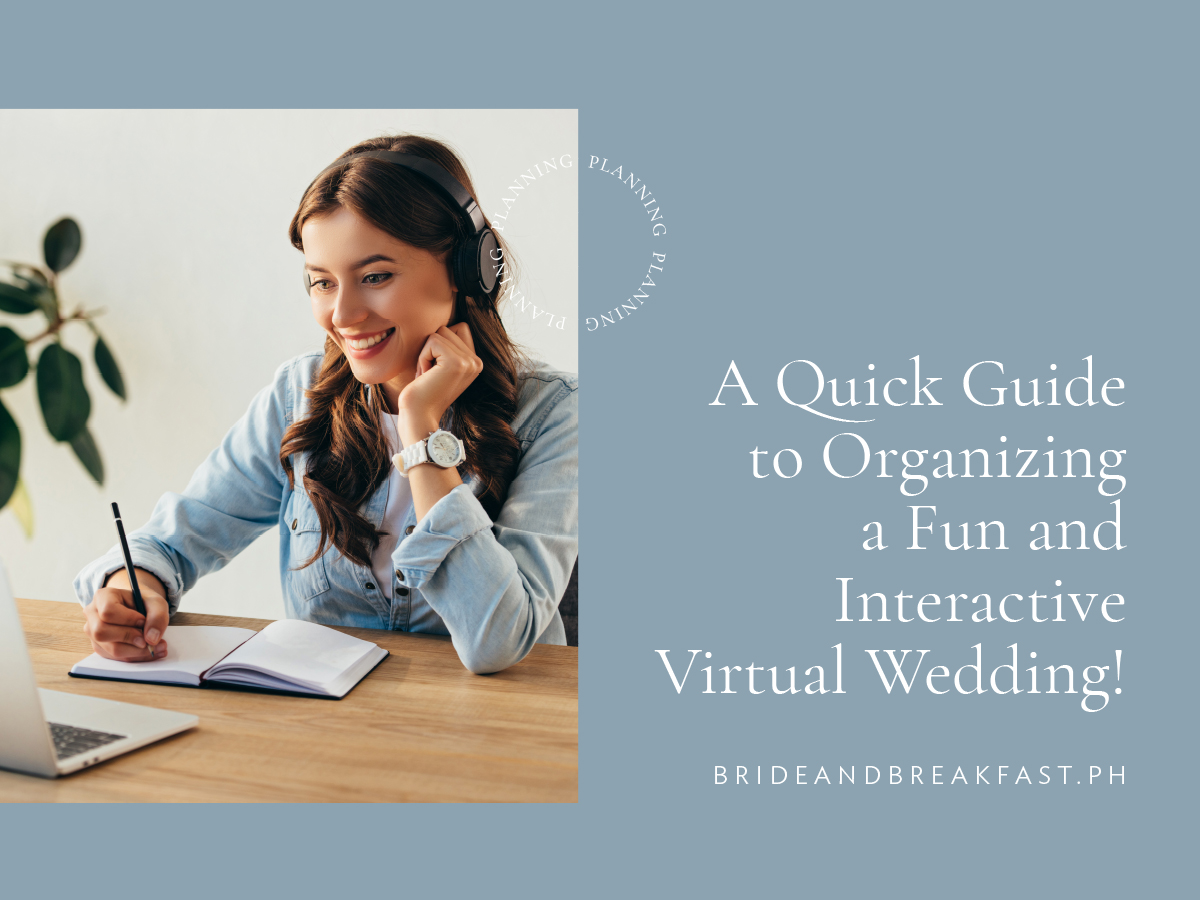 Planning a virtual event is not as easy as it seems! Although it is undemanding compared to having a physical contact celebration, it can be a bit tricky, too. So, before we get into the details, first, let us talk about the elements that you need to keep in mind during the planning. 

The first thing that you need to think about is the location. You can choose to do it in a restaurant, function hall, or even at the comfort of your home, but KTG emphasized that "The couple needs to take into consideration if the venue of choice has good internet connection & lighting". For virtual weddings, lighting and internet connection are a crucial part, as these would ensure your guests can see your online celebration fully and smoothly. 

Technical and internet signal concerns can be problematic. Thus, aside from wedding coordinators, onboarding a virtual streaming supplier can provide your guests a well-organized online experience of your union, and anticipate technical issues that may arise. "Having a good virtual streaming supplier with tech knowledge is also important, so they can make sure everything online and offline is working well," KTG validates. They can also assist in leading online dry runs to determine issues such as low quality of the picture, slow internet, videos not working, etc. before the actual broadcast. "A technical director is also a good addition in virtual weddings, so there is someone who will make sure that the presentations are being taken care of, blockings for videos, plus they can ensure sound quality for online guests," KTG added. 

Are you thinking of streaming it on Facebook or YouTube, or do you prefer real-time experience and interact with your guests using Zoom or Skype? "Identifying the platform that works for all guests is also important. It also depends on the guests who have access to these platforms.", KTG affirmed. So, best to check beforehand which platform will work best for them on the day.

If you and your fiancé are planning to invite more than 20 people and hold a small program, then yes! "The host will keep the guests engaged and entertained, plus they will also serve as the bridge for the guests and the couple," advised by KTG. They will carry the program flow, facilitate the games, and ensure no awkward dead-airs will take place!

Every couple is unique, so there is no actual template for a program, may it be for physical contact or virtual celebration. But if you are still in a blur, keep reading to see how you can grace a fun, interactive, and genuine flow! 
KTG recommends having a program with not more than 2 hours for a virtual wedding to keep the guests focus and engaged.  "It is hard to hold on to the interest of people online, not to mention the stability of their internet connection too," KTG emphasized. Remember, your guests will be seated in front, while holding on to their devices, so do not keep them long! 
The first dance, cutting of the cake, toast, and speeches for your virtual reception? Well, why not! Coordinate these with your suppliers, so they can plan the broadcast and style the shots as if the guests are watching a romantic wedding movie! KTG also suggests pre-recording the speeches so that the streaming supplier can easily share it on the day.
Fuse at least 2-3 cool and interactive games to keep your guests entertained! It can be trivia games about the couple, bring-me, charades, etc. For trivia playoffs, you can also use applications such as Kahoot or Jeopardy labs as they can regulate virtual games easily, plus compute your scores for you!
Design a virtual backdrop or monograms that best describes your personality as a couple and display on the day, or opt to play a pre-wedding video and use it as your OBB before you officially open your program. A live or pre-recorded music entertainment can also be a wonderful enhancement. There are many things you can do to maximize technology and these are just some that would surely add drama and character to your digital wedding!
Even if you choose to do things virtually, it should not limit your interaction with your guests! You can give them tasks on the day like asking them to do special performances, give wishes, or even share story bits about you as a couple – live, or pre-recorded! KTG also suggests sending out packed meals or souvenirs to your guests as it adds a personal touch to virtual celebrations and will inevitably put your guests in a festive mood! 

As virtual weddings is new to most people, sending out a detailed invitation with guidelines to your guests is an essential step. KTG specially mentioned, "Given that there are restrictions for mass gatherings, guidelines are vital, so they will not be sharing/spreading private celebrations should the couple request privacy". Plus, guests will know what to expect with the dress code (at least with the top!), online etiquettes, guest interaction, and etc.