While emotions are heightened and the atmosphere of panic is too thick to ignore, here are the next productive steps you can take to bring back your wedding planning into perspective. We consulted some of our wedding planner friends to give us a quick run down on what to do now that so many weddings are postponed because of the Metro Manila Community Quarantine.
When you invited your guests to your wedding, you did it very personally through a printed invite, a social media event calendar, or a meet-up. Now that you have decided to postpone your wedding, your guests will appreciate it very much if they hear the news from you instead from any of your suppliers. Notify them and make an effort to connect with them as a couple. This way, you also strengthen your relationship and bond with your guests.
Since the Metro Manila Community Quarantine is government mandated, all wedding suppliers are urged to allow rebooking of weddings without any penalty fee. But it will still be wise to check your existing supplier contracts from your file and study the clause for postponement or cancellation. Talk to your supplier and discuss how you can form a new agreement now that both parties are faced with this situation. Write the new agreement down to safeguard both parties and continue to work together towards your new wedding date. Remember, listen to your suppliers and be considerate to them too because they are affected by the situation also.
Rebooking can get tricky because of the big number of weddings affected. You'll have to check the availability of all your suppliers and hopefully your new wedding date will work for everyone. It will also help to know your priorities at this point. Which details are important to you and which ones you can do without? Is that detail worth your stress? Know what you want and everything will fall into place.
Your marriage license has a 120-day validity, while your baptismal certificate is valid for six months. Check your documents to see if it will expire before your new wedding date so you can make the necessary preparations. A notarized affidavit will be needed to renew the marriage license. If you're going to have a catholic wedding, check the guidelines with your Church. Since we are in the middle of a pandemic, it is possible that the municipality and the Church will give some leeway for couples who are affected by the community quarantine.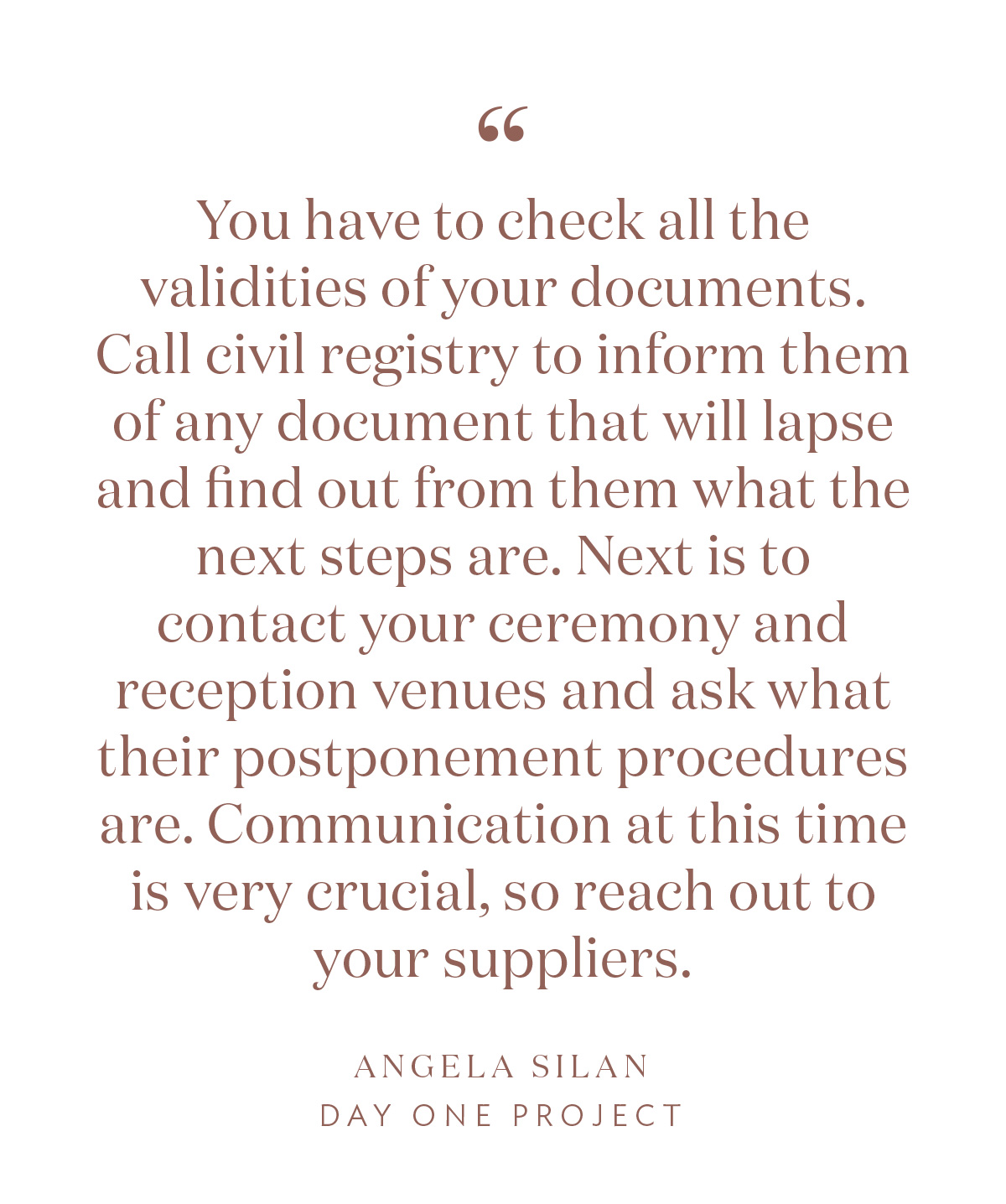 Now that all you can do is wait for the pandemic to clear out, why not use your energy to spend more time in doing things together? Get to know your soon-to-be spouse even more and fall in love over and over again. It's also a good time to prepare for your future life together: learn how to cook, search for home pegs online, and make plans for your honeymoon. By doing so, it will remove your focus on your postponed wedding and shift it to something more productive. It's going to be worth it!