There's something about Filipiniana themed weddings that are so beautiful. Maybe it's the freshness of the tropical details or the elegance of the traditional Filipino style. Now if you're planning on having a Filipiniana wedding yourself, you're going to want to read about these elements you can incorporate. Read on and keep scrolling!
1. Attire
If you want to go for a true, clear sense of the Filipiniana theme, then putting on the traditional Barong Tagalog for the groom and the classic Filipiniana or Maria Clara for the bride is definitely the way to go. However, if you prefer a more subtle, modern look, then you can opt to pick out a few elements from the classic Filipiniana (like the big sleeves) and incorporate that instead to your bridal look. You can even choose to take on a totally modern design for your wedding dress, but still have that "Filipiniana" feel by making use of piña fabric.
2. Decor and styling
There are three ways to go for the decor and styling of your Filipiniana wedding. First, and probably the more common way, is to make use of chic tropical details, like palm leaves, banana leaves, monstera leaves, and colorful tropical flowers. Second, you can go for the regal, traditional Filipino feel with gold tones and wooden elements. Third, which is something more fun and playful, is to go for the "Pinoy Fiesta" look–lots of bold colors, prints and patterns, banderitas, and the like. Now as for the plates, placemats, napkin holders, and other details, using abaca and wooden materials is the foolproof choice.
3. Venue
The place you hold your big day plays a huge role in conveying your wedding theme. For example, for a bohemian wedding, you would normally gravitate towards choosing a venue at a garden or a beach. For a Filipiniana wedding, the more obvious choice is a vintage or historical place, a venue that gives off colonial Filipino vibes. Here are some places you can check out:
Nuestra Señora del Pilar, Bataan
Casa Manila, Intramuros
San Agustin Church, Intramuros
Baluarte de San Diego Gardens, Intramuros
Las Casas Filipinas de Acuzar
Casa Manila Patio
Metropolitan Museum
Hacienda Isabella
4. Bouquets
Colorful tropical flowers like birds of paradise, anthuriums, and even orchids are perfect for a Filipiniana bouquet. However, if you want to go for the more unique (and more Filipino-esque) route, you can choose to carry or make your bridesmaids carry alternative bouquets, like fans, parasols, abaca or wooden bags, or capiz shell clutches. Those, being made with very Filipino materials, will surely add that touch of Filipiniana chic to the overall style of your wedding.
5. Invitations and stationery
Giving your guests a taste of what's to come is always a great idea. And you can do this with no other than your invites! Stick with brown-colored, recycled paper for a natural, Filipino feel. Play with canvass fabric, use abaca twine, add hints of gold accents to give off a glam element–try to get creative as possible with raw, natural Filipino materials for your invitations.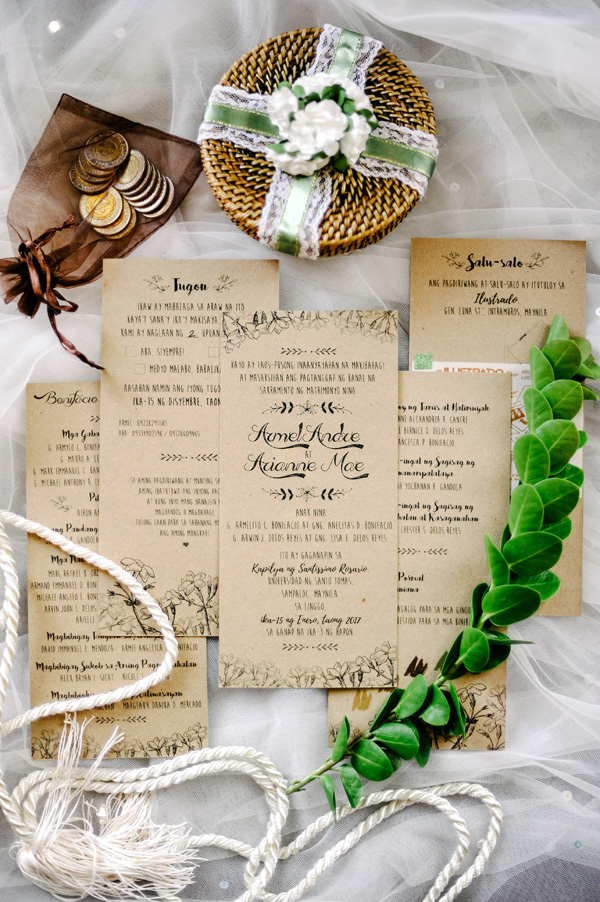 6. Hair and makeup
Filipinas are traditionally known to be demure and feminine. Guess what? You can totally translate these characteristics into a hairstyle for your Filipiniana wedding! Go for clean, sleek-looking hairstyles, like a side bun or chignon. Then accessorize with a flower to add that fresh, youthful look. Opt for light, neutral makeup to go with it.
7. Color scheme
As for your color scheme or motif, you can either go with the neutral, elegant scheme or the more bold, lively scheme. For the neutral theme, stick with golds, creams, and champagnes. For the more bold theme, you can incorporate hints of the bold Philippine flag hues like red, blue, and yellow.
8. Photo Booth
A wedding is not complete without a photo booth! But since you're having a Filipiniana themed wedding, you wouldn't want just any other photo booth, right? For a truly unique and in-theme photo booth, bring in palm, banana, and monstera leaves with colorful tropical flowers and raw, natural-looking materials like abaca and wood, just like with the decor and styling. Or, just like this couple, bring in all the banigs for something creatively different!
9. Music and entertainment
One way to really bring in culture to your wedding is through the music, entertainment, and performances. Rich cultural Filipino music and dances are some elements you should think about bringing in to your Filipiniana wedding. If you want something more modern, then current Filipino music is clearly the way to go!