One thing I love about weddings? The fashion! Yes, I may usually look at the bride's gown and the groom's suit first, but I also love looking at the entourage's clothes. You can really have so much fun with it! Whether you choose floral patterns or sequins for your bridesmaids, and suspenders or cheeky bow ties for your groomsmen, the possibilities are endless! So I rounded up ten bridesmaids and ten groomsmen looks to help give you some inspiration for your own wedding. Take notes ladies, you'll find a lot of stuff here!
1. The sleek silhouette, the side slit, and the delightful mint green color of these Tantease bridesmaids dresses make for such a chic and sophisticated look!
2. Here's another lovely creation from Tantease! These cuts definitely remind me of Greek goddesses!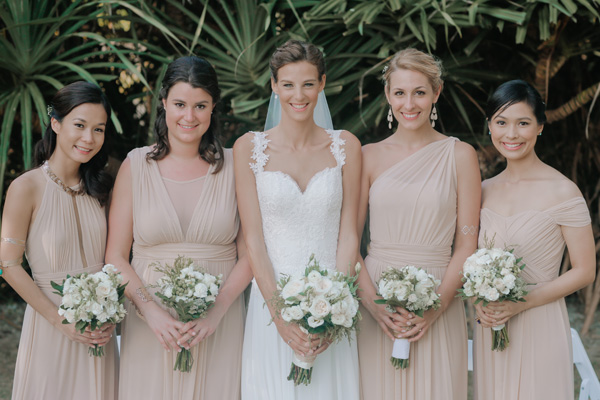 3. Looking for something out of the box? Go for a modern bridesmaid look with above-the-ankle symmetrical dresses!
4. Bridesmaid dresses don't have to be gowns! Tea-length dresses are definitely a sweet and cute option!
5. Having a boho wedding? That means lots of lace and yes, the flower crowns! P.S. – I love the boots these bridesmaids are wearing too!
6. These dusty rose dresses are the stuff my dreams are made of! Don't these ladies look elegant?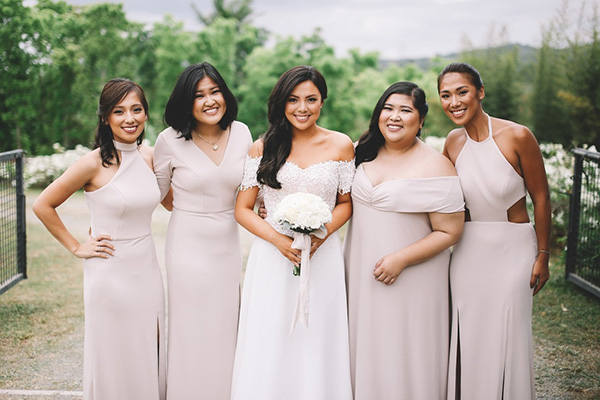 7. Looking for ways to glam up your wedding? Have your bridesmaids wear sequins! You can never have enough glitter and sparkle!
8. Colorful prints, like these bridesmaids' skirts, are a lovely wardrobe choice for a daytime or late afternoon wedding!
9. If you're not quite that daring yet, you can also opt for some floral prints! They're so fresh and summery!
10. Here's another way to change things up: Choose a bold color. These burgundy dresses, in their varying cuts, look so classy, don't you think?
11. If you're having a beach wedding or even one with a relaxed and laid-back vibe, you can have your groomsmen wear beige or khaki–it's not as formal as a black suit, but definitely still dapper!
12. Going for a classic look? You can never go wrong with a suit and bow tie–it's timeless and elegant. (Yes, men can be elegant too!)
13. You've already seen some out of the box ideas for your bride tribe, now here's one for your groom tribe. (Can I make that a thing?) Brown suspenders, blue bow ties, and those jaunty hats–quirky and unique, but it works!
14. Here's another option for a chill wedding look for your groomsmen–long-sleeved white dress shirts and khakis! Not only do they look good, they also look really comfortable. And the shoes look comfy too!
15. If you want a timeless piece with a bit of a twist, play around with some color. These smart-looking indigo outfits are a perfect example.
16. No suit? No problem! Have your groomsmen wear matching polos, and accessorize with some colorful bow ties–they definitely add character, don't you think?
17. Want something really chill? These groomsmen are wearing white polos, shorts, and flip flops–can you get any more chill than this? (Oh, and don't forget the sunglasses too!)
18. White and light grays aren't the only light colors men can wear! Check out these guys wearing sky blue! Pretty cool!
19. Here's another classic and timeless outfit–the barong! You just can't go wrong with it!
20. These gentlemen are looking fine in their suit and pants combo. They've definitely proven that blue and beige go well together!