If you're a fan of refreshing open spaces, sunlight streaming in, and being close to nature, then you may want to consider wedding venues right outside of Metro Manila. There are many charming venues tucked away within one to two hours away from the city that are ready to welcome you for your dream wedding. Some of these destinations may even entice you to spend a weekend over for resting and recharging. Whether you're having an intimate wedding, or a grand one in the future, here are some spaces that will catch your attention!
Bakuran, Balai sa Antipolo
Address: #2 St. Michael St. Nuestra Senora dela Paz Subd. Sumulong Hi-way, Antipolo City
Contact Details: 0922 855 3889 / 0961 237 0763
Approximately 1 hour away from Metro Manila
Here's an intimate wedding venue nestled within Antipolo. Bakuran is a vacation home that can host your wedding with those nearest and dearest to your hearts. The modern and minimalist design of Bakuran is absolutely pleasing to the eyes. Just imagine taking a lot of gorgeous photos by their staircase, and pool area!
The Emerald Events Place
Address: Cabrera Road 1870, Antipolo City
Email: info@emeraldeventsplace.com
Approximately 1 hour away from Metro Manila
A gem of a venue within Antipolo with a name inspired by its lush green surroundings. The Emerald Events Place gives you a gorgeous view of the Metro Manila skyline as you enjoy its fresh and serene environment, and luxe wood interiors. You can choose between their main hall or garden area to host your wedding – whether grand or intimate. They also have a master suite and deluxe room for your preps! For oculars, you can visit The Emerald Events Place from Monday to Saturday, 10AM to 5PM. Just be sure to check the calendar of activities on their website before you visit!
Timmy in the Woods
Address: #3 Mount Everest Avenue, Goldenhills Subdivision, Antipolo City
Email: timmyinthewoods@gmail.com
Approximately 1 hour away from Metro Manila
For the couple envisioning a rustic wedding, Timmy in the Woods is the venue for you. This vacation home turned intimate wedding venue brings you close to nature in such a cozy space. They even have rooms and an infinity pool, so you can enjoy a weekend staycation with your family (or just the two of you) after the wedding.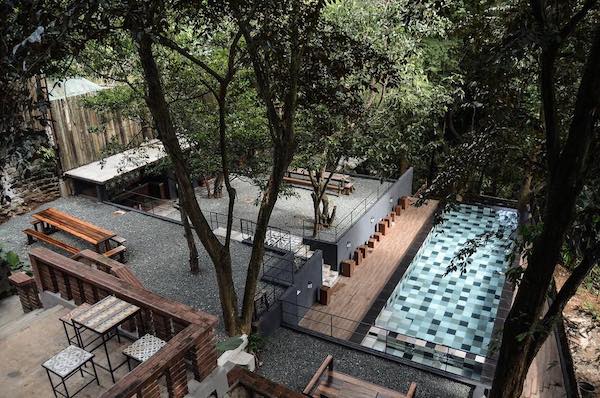 Alta Veranda de Tibig
Address: Alcalde St., Brgy. Tibig, Silang, Cavite
Email: altaverandaeventsplace@gmail.com
Approximately 1 hour away from Metro Manila
Whether you're envisioning a garden ceremony or an indoor reception, Alta Veranda de Tibig has options for you. The spacious El Pabelion de Jardin with its dome-like design allows you to customize the area according to the style you want and the number of guests you'll be having whether that's 30 or 300 (for when we can have numerous attendees again!). Meanwhile, if you choose their Plaza Guevarra, you'll also have access to the garden area. This particular hall also features Spanish-Filipino architecture inspirations, making it on-point with Filipiniana and classic romantic themed weddings.
Blue Moon Los Ilustrados
Address: Santa Rosa, Tagaytay Road, Silang, Cavite
Email: bluemooneventsplace@yahoo.com
Approximately 1 hour away from Metro Manila
Blue Moon Los Ilustrados can fulfill your dreams of a venue with elegant, all-white interiors and a fairytale-like garden area. If you prefer a bigger, open space you can opt for the garden as your venue. But for an intimate indoor celebration, their ballroom area on the second floor can accommodate up to 50 guests. This ballroom with arched windows also leads to the balcony where you can take stunning photos! The third level, meanwhile, is where you'll find suites for the bride and groom to stay overnight or to use for preparations. As for catering, their in-house restaurant, Rekados, serves sumptuous Spanish fare that you will certainly enjoy.
Bella Rosa Gardens
Address: Toledo Street, Sitio Apiad, Barangay Pulong Bunga, Silang Cavite
Email: bellarosagardensph@gmail.com
Approximately 45 minutes to 1 hour away from Metro Manila
If you're planning a church wedding, wouldn't you love a chapel that is only a few steps away from the reception venue? Bella Rosa Gardens is home to the Our Lady of Ephesus Chapel, a solemn and private venue for your ceremony. Within this destination surrounded by lush greenery, you'll also find their upper garden and lower garden where you can host your reception. But if you prefer to bring your party indoors, you can also make use of their indoor pavilion. Couples can also enjoy their pocket gardens to take photos in or just for a refreshing stroll. After the wedding, you can even spend a couple of nights resting and relaxing by booking their suites or standard rooms!
Lotuspod Bed and Breakfast
Address: 2340 Kalsadang Putol St., Purok 6, Brgy. Puypuy, Bay, Laguna
Email: lotuspodbnb@gmail.com
Approximately 1 to 2 hours away from Metro Manila
Nature lovers will appreciate Lotuspod Bed and Breakfast. True to their name, you'll find lotus flowers blooming in a pond at the center of the entire property. This is definitely a great venue if you're envisioning a wedding where you can also bask in fresh, cool air and green surroundings. You can opt for their Hardin ng mga Tala so you can dine with your guests under the stars or the Talisay Pavilion if you prefer a formal, sit-down event. While you're there, why not take a vacation with your family and enjoy Lotuspod's amenities such as their spa!
Hillcreek Gardens
Address: 134 Alfonso Road, Alfonso Cavite
Email: salesandevents@hillcreekgardenstagaytay.com
Approximately 2 hours away from Metro Manila
The grand and romantic ambience of Hillcreek Gardens always makes it a popular choice for couples. They have spaces for you to choose from such as a garden, pavilion, and restaurant, so you can definitely customize your wedding according to your vision, theme, and motif. You can also make the most out of your stay by booking their hotel rooms and enjoying their dining and spa amenities.
The Farm at San Benito
Address: 119 Barangay Tipakan, 4217 Lipa City, Batangas
Email: info@thefarm.com.ph
Approximately 2 hours away from Metro Manila
The Farm at San Benito is a holistic medical wellness resort located in Lipa, Batangas. This destination has made its name thanks to its medically-supervised, science-based programs and its luxurious, green surroundings that offer you a truly serene and one-of-a-kind stay. But apart from their renowned health and healing programs, The Farm at San Benito is also becoming a beautiful choice for intimate weddings. You can have your dream wedding within their 48-hectare lush forest property and serve your guests healthy and delicious cuisines! Weddings will surely be magical in this fresh, open space!
Luces Living
Address: #62 Macopa Street, Monark, Upper Tuyo, Balanga City, Bataan
Email: livelight@lucesliving.com
Approximately 2 hours away from Metro Manila
Luces Living's mixed use spaces has been catching more and more couples' eyes! Take their Surya Sun Hall for example with its nature-inspired construction that allows so much natural sunlight to enter the entire space. Wouldn't this be just gorgeous for a morning wedding or your pre and post-ceremony photos? This venue is also great for couples who are planning a modern minimalist themed wedding!
If you'd like to explore more options, you can also browse restaurant venues that can host your intimate wedding or visit our directory.