Due to the sudden turn of events, big wedding plans were put on a break, and intimate weddings struck in-demand. With the restrictions in place, booking a venue is one of the crucial things you need to tick off. Of course, even if it's a small union, you want a place that can amplify your personality and style while giving you a fuss-free wedding. We've compiled a list of restaurants in the Metro that can get you started on your intimate wedding venue quest! These restaurant suggestions we have consolidated are to be considered in a pre-quarantine setting. Should you wish to inquire while we are in the quarantine phase, feel free to get in touch with them directly through the contact details we have included below. Happy venue hunting!
A venue with the touch of Philippine heritage will sure please your guests' senses by giving them Old Manila historical character. The quintessential Las Casas Manila is absolutely worth a glimpse for your venue hunt!
Address: 134 Roosevelt Avenue, San Francisco Del Monte, Quezon City
Contact Number: (+63) 917 711 3714 / (02) 7756 1435
E-mail: lascasasmanila@margaritafores.com
Photo: Las Casas Manila by Margarita Fores
A clandestine gem within Quezon City, Lemuria Gourmet Restaurant is going to capture your heart with its classic and elegant French-Mediterranean ambiance. Not to mention, it also has its wine cellar!
Address: 5 Julieta Circle Horseshoe Village, Quezon City
Contact Number: (+63) 927 428 4202
E-mail: lemuria@brumms.com.ph
Photo: Lemuria Gourmet Restaurant
Seafood paella and callos will not only make your mouth water but will elevate your wedding feast! Well, good thing Mateo's Restaurant Cafe can give you those home-cooked Spanish-Filipino dishes that will give that warm friendly vibe!
Address: 54 N. Domingo Avenue, Barangay Horseshoe, Quezon City
Contact Number: (+63) 945 765 2891 / (02) 8696 3724
E-mail: mateosph@gmail.com
Photo: Mateo's Restaurant Cafe
This cafe is for anyone who wants to be amidst fun and 'cozy-vibed' ambiance! This little cafe in Quezon City is certainly an allure conceding its simple gazebo atmosphere with an option to be an indoor setting.
Address: 99 Scout Lozano St, Diliman, Quezon City
Contact Number: (+63) 917 817 6045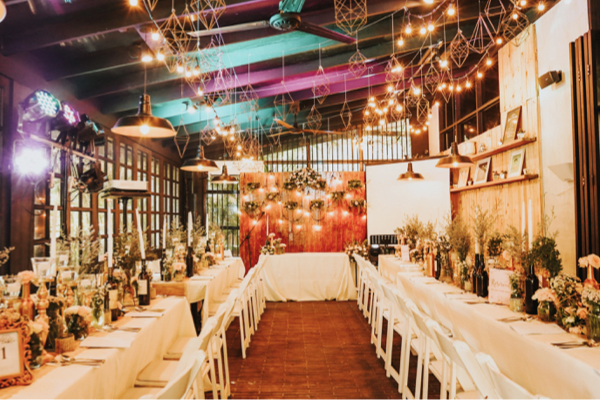 Nestled in the Antipolo Beehouse, The Burrow Cafe is a hidden underground cushy venue in the terrain of Rizal! Surrounded by lush greens and airy ambiance, this venue will definitely up your relaxing garden theme!
Address: 113 Beverly Hills Avenue, Beverly Hills Subdivision, Antipolo, Rizal
Contact Number: (+63) 917 622 9795
Website: https://www.antipolobeehouse.com/burrowtogo
Photo: Antipolo Beehouse | Taken by Denise Cabuang

Photo: Burrow Cafe at Antipolo Beehouse | Taken by Elaine Lara
Pio's Kitchen is ideal for your intimate union as it a venue that really caters for private dining. With its intimate wedding packages, the team aims to give couples a one-stop-shop for all their requirements! Surely fuss-free!
Address: 96 Sct. Reyes St Cor. Sct. Fuentebella St, Quezon City
Contact Number: (0917) 532-2892 / (02) 509-4529 / (02) 398-0005
E-mail: pioskitchenph@gmail.com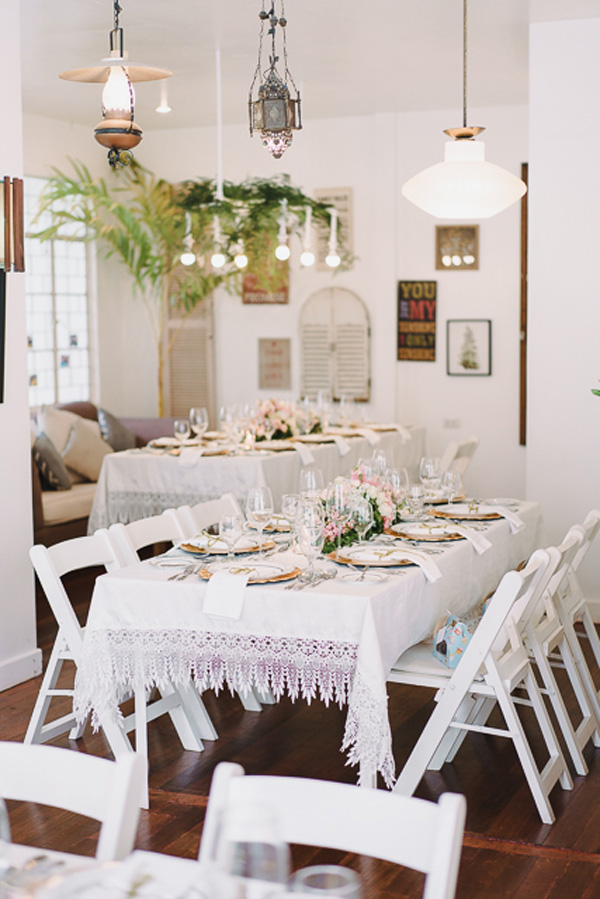 Check out Cafe Ysabel if you are planning to have a moody old-fashioned milieu for your intimate wedding! This ancestral home in San Juan was able to keep their beautiful vestige style that will provide you a charmingly nostalgic atmosphere!
Address: 175 M. Paterno Street, Brgy. Pasadena, San Juan City
Contact Number: (+63) 995 590 5515 / (+63) 921 244 6453
E-mail: cafeysabelreservation@gmail.com or reservation@cafeysabel.com
Photo: Cafe Ysabel
Thinking of a minimalist greenery celebration? Then, Talisay The Garden Cafe might be an ideal pick for your celebration! Located in Quezon City, this venue is accessibly convenient for your guests!
Address: 44 Maginhawa Street, Diliman, Quezon City
Contact Number: (+63) 919 877 6321 / (02) 8293 9077
E-mail: talisay@tribo.ph
Photo: Talisay The Garden Cafe
The Frazzled Cook is the way to go if you are looking for a venue that you don't need to style that much! This restaurant is full of personality and a uniquely beautiful space perfect for your fun intimate wedding!
Address: 78 Gandia Street Corne Tomas Morato, Quezon City
Contact Number: (+63) 917 633 3352
E-mail: frazzledcook@gmail.com
Photo: The Frazzled Cook
Are you preparing for a rustic garden-themed wedding? Sage Garden Cafe + Restaurant might be the restaurant you're looking for! A jewel located in a shopping center in the south can give you the outdoor 'feels' for your intimate ceremony within the city.
Address: Unit C3 River Park Festival Mall, Alabang, Muntinlupa
Contact Number: (+63) 917 517 9995
E-mail: thesagegardenph@gmail.com
Photo: Sage Garden Cafe + Restaurant
Does lutong bahay food excite you? If so, then Romulo Cafe would fit your personality! Bask in the elegance of this restaurant with walls of photos and paintings from the 1950s that will lead you down memory lane.
Address: 148 Jupiter St, Bel-Air Village, Makati City
Contact Number: (+63) 915 561 1888 / (02) 478 6406 / (02) 691 9069 / (+63) 917 152 3814
Website: https://www.romulocafe.com/rc-makati
Photo: Romulo Cafe
If you and your fiancé want a homey mood along with your favorite Filipino dishes, then Neil's Kitchen might be the restaurant for you! Claimed to be the "Best Restaurant in Alabang" by many, there is absolutely no way you can go wrong!
Address: Lot C 701 – 704 Westgate Filinvest City, Alabang, Muntinlupa City, 1780 Metro Manila
Contact Number: (02) 8810 5017 / (+63) 917 311 2916
E-mail: neils.kitchen@yahoo.com
Photo: Neil's Kitchen
Serving farm-to-table delicacies, this restaurant is an instagram-worthy venue perfect to suit your unique and bubbly character! Happy Garden Cafe can suit up your intimate gathering depending on your style.
Address: Sunshine Place, 56 Jupiter Street, Bel-Air, Makati
Contact Number: (02) 824 5440
E-mail: happygardencafejupiter@gmail.com
Photo: Happy Garden Cafe
Ambiance, space, and sumptuous Thai food – all mixed together in this restaurant! Positioned in BGC, Mango Tree Manila is a gem that can be perfect for a opulent modern rustic themed wedding!
Address: 7th Avenue, BGC, Taguig
Contact Number: (02) 7916 0297 / (+63) 917 890 2166
E-mail: mangotree.manila@gmail.com
Photo: Mango Tree Manila
Ever dreamed of getting hitched inside a museum? This modern designed gallery that incorporates our Philippine local traditions and culture is absolutely refined. Located in the heart of BGC, this restaurant can for sure give your intimate celebration a memorable experience!
Address: 5F Clipp Center, 11th Avenue cor 39th street, BGC, Taguig
Contact Number: (+63) 917 546-1673 / (02) 2218 3895
E-mail: reservations@gallerybychele.com
Website: https://gallerybychele.com
Photo: Gallery by Chele
Do you know more restaurants that should be on this list? Share it with us in the comment section!