It's no surprise that bohemian is one of the most sough-after themes by marrying couples nowadays. The style itself vocalizes an effortlessly unconventional, yet fiercely exquisite fashion for weddings. Moreover, the laid-back vibe allows the style to be inexpensive—you don't need to overdo the elements to achieve the perfect boho feel. Perhaps you are thinking of a venue filled with luscious florae and botanicals, a dash of ethereal drapes, and some soulful D.I.Y. favors? Then, you will definitely have fun planning your wedding with this motif! Plus, the best part of this theme is that it lets you don a carefree bridal look! So, if you are thinking of going with this style for your day, we have gathered some of our favorite bohemian ideas to get that spirited romantic feel you have always envisioned! Get ready to take down notes and take inspiration from these boho-chic Bride and Breakfast features!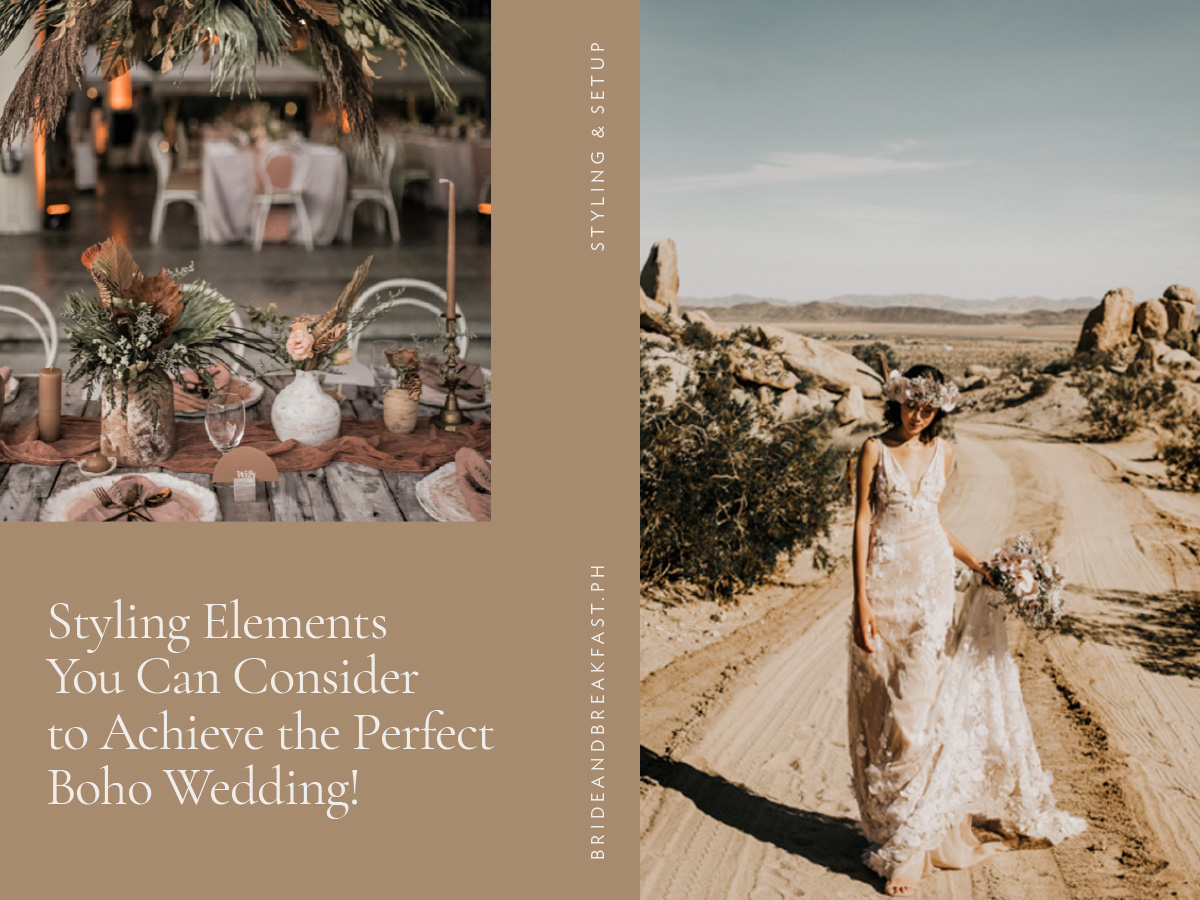 1. Geometric Backdrop
Teepee, arch, or square—go with shapes for your backdrop and enhance it with opulent florals to create an enchanting feel for your ceremony. Not only is it an eye-catcher for your guests, it also sets a whimsical mood for your exchanging of vows.
2. Quaint Botanicals
Bohemian is all about natural florals and wilderness combined. Think fresh greenery with textured and oversized florae to generate a soft garden look completing the dreamy, romantic bohemian vibe of your wedding.
3. Persian Rug
There are a lot of decorations you can put together for a bohemian wedding, but our personal favorite is the boho rug. Lay down a colorful carpet and let it provide a beautiful accent to your ceremonial setting as you share your first kiss as husband and wife.
4. Venue with a View of Nature 
There's nothing more offbeat than getting married in the centre of nature. Imagine professing your love for another in a breathtaking scenery. It will indeed allow you to really revel in the whole experience of bohemian love.
5. Warm Reception Styling
Incorporate the eccentric wilderness into your wedding reception. Think lush and textured botanicals in industrial furnitures then amplify it with warm-colored cloth and chic candles. Choose earthy hues that would perfectly match and exhibit the fervor.
6. Integrate Wood
Well, you can never go wrong with timber! It creates a natural, rustic, and soft vintage setting perfect for your boho theme. Plus, it would look good whether you choose to celebrate in an indoor or an outdoor setting.
7. Fresh Greenery in a Jar
More and more couples are thinking outside the box for their decorative elements. One of the trends that caught our eyes is lush greenery in a jar. It is simple, but it puts an emphasis on the free-spirit, relaxing vibe—very bohemian!
8. Dried Pampas
Amplify your floral arrangement with pampas. While it is a clear-colored plant, it does bring a taste of the earth to a bare venue for your special day. Plus, these dried plants last long, so you don't need to worry about disposing it right after the event!
9. Macrame Patterns
Make a major bohemian statement using macrame pieces. Whether you opt to use it as a ceiling treatment or a backdrop, this element is a must-have to achieve the full romantic boho vibe.
10. Lace Bridal Gown
Ethereal, flowy and full of spirit—these are the words to describe a bohemian bride. Embrace the fashion and channel your inner gypsy by wearing an airy lace bridal gown. You can opt for colors and incorporate other details such as tulle, ruffles or a slit for a full dramatic wanderer glam.
11. Flower Crown
It's your day, so go on and have as much fun as you want! This is what the boho theme is all about anyway. Enjoy by mixing up your bridal look with an unconventional flower crown for your hair accessory. You can choose to attach your veil on or wear it as it is!
12. An Oversized Wildflower
Looking effortless doesn't have to mean no effort at all! Complete your whimsical bridal look with a large organic florae to hold and play around with color and texture. Remember, it's all about the details!