From shorter dresses to shorter guest lists, weddings nowadays are no stranger to breaking the mould of what's considered the norm and finding new, ingenious ways of making things work. It was once common of couples to have a year-long engagement, at the very least, to give them adequate time to secure good suppliers and plan their wedding, but these days, it is expected that wedding plans can change completely a few months, weeks, or even days before the big day. There's no reason to worry, however, since suppliers and couples alike are more than capable of pulling off the dream wedding—no matter how grand or how intimate—with a much shorter planning timeline. If you're looking to tie the knot sooner rather than later, here are 7 things you can do to make it happen in 30 days or less!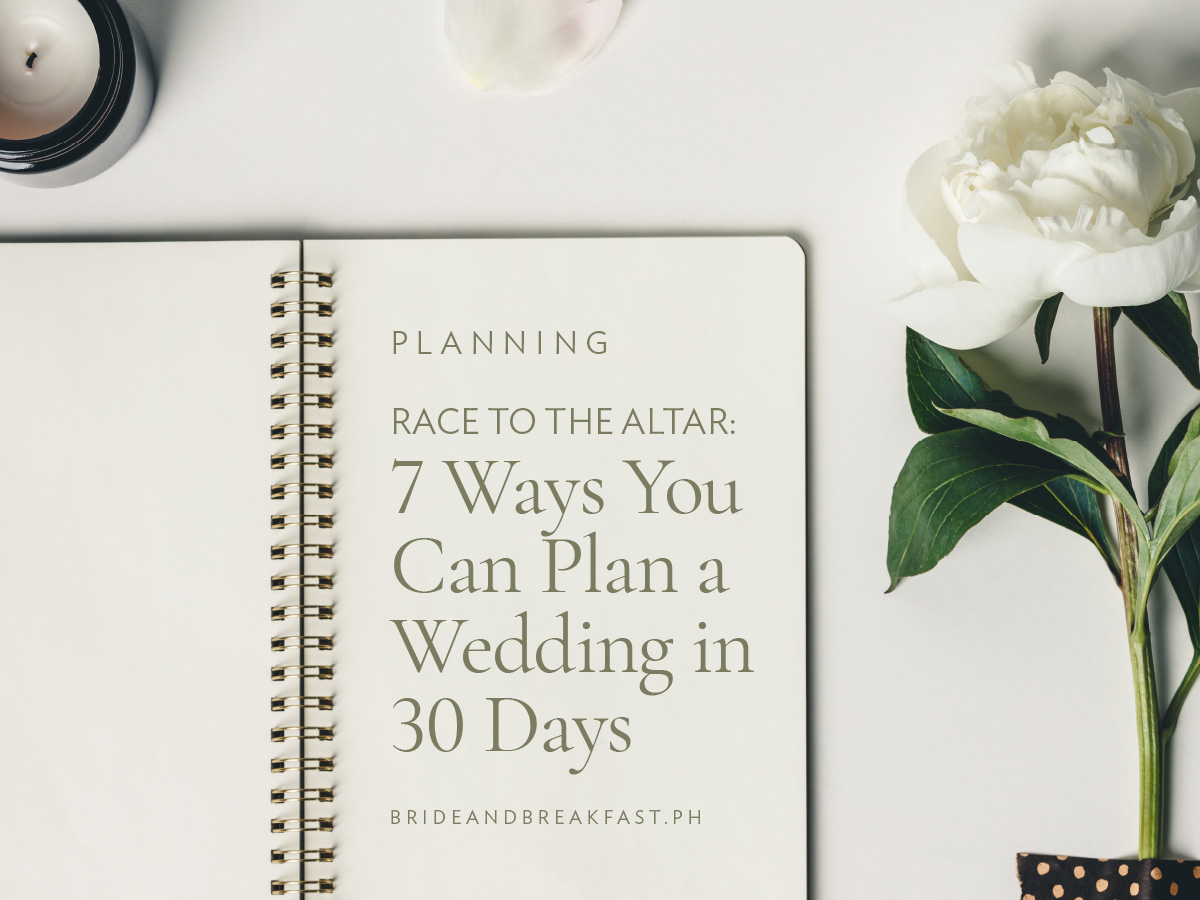 With everything moving so fast, there is a higher tendency to overspend on some nice-to-have's and overlook sudden charges for the non-negotiables. Before making any firm plans, sit down and discuss the magic number you are both comfortable spending for this wedding and prepare to access the funds soon. Since the planning horizon is shorter than usual, payments will be in full rather than spread out, and decisions need to be made quick and deposits made even quicker. 
Imagine a beautiful venue that also provides catering, styling, and some of your other required services—you'll only need to negotiate one contract and liaison with one individual for all your questions and concerns. It takes time and effort to compare and manage wedding suppliers, so by choosing one supplier to cover multiple bases, you cut a number of redundant tasks from your to-do list. Also, these venues typically have partner suppliers for the services they cannot provide in-house. Ask your venue for their recommendations for suppliers they've worked with in the past so you can leverage on existing synergies.
One of the most important keys to pulling off a wedding in a short amount of time is to be flexible, and the most important decision to be flexible with is the date. Suppliers are usually booked well in advance, and guests may already have prior commitments. There's no harm in trying for a weekend wedding followed by a dinner reception, but if you don't want to compromise on your dream team of vendors, why not opt for a morning wedding or a weekday wedding? You might even save on your budget since some vendors offer more practical rates for weekday events.
You might be able to print and distribute traditional invitations quickly, but an uncomplicated option that saves on precious time is to send your guests their invitations online or through your wedding website. There are still opportunities to personalize and inject creativity, like keeping the e-vite design consistent with your reception styling and placing your custom couple monogram all over the paraphernalia. Another trick is to limit the number of guests invited. This just makes it much simpler and more manageable when you're chasing RSVPs, fixing seating charts, and the like.
Having your attire custom-made is definitely a unique experience, but if you're short on time, you can also choose to find the dress of your dreams from the vast selection of Ready-to-Wear (RTW) clothing. There are many talented local and international designers that offer RTW pieces in their ateliers, where you can fit different pieces that catch your eye until you find the One. The next step is altering your choice to your measurements and make sure it fits you flawlessly on the big day.
And by call a friend, we may mean call the entire village! Don't be afraid to assign tasks to your family and your closest friends because they all understand the current situation and are rooting for you and your happily ever after. Delegate tasks that don't require your personal touch such as delivery/pick-up errands, making payments, curating the reception playlist, and so on. We know it's not easy to give up control, but trust us when we say it's worth it!
In the typical wedding planning timeline, there are tasks you can push-back to days before the wedding because you have the luxury of time. In this case, we recommend getting every task out of the way each time you have a moment and the motivation to do so. At 30 days out, you might think it's too early to shop for giveaways or plan your seating chart, but it's always a good idea to get ahead of your to-do list. Do your best to avoid waiting until the last minute to get things done.