It has been a few days since actress Bettinna Carlos and Mikki Eduardo tied the knot, but we're still in awe of how they pulled-off their heartwarming two-weddings-in-a-day celebration! In case you missed the touching details, we're highlighting all the memorable moments from their intimate morning wedding thanks to Chestknots Studio.
The night before the wedding, Mikki proposed to Gummy, the daughter of Bettinna, to ask if she'll allow him to be his father. She said "Yes"! Mikki knelt in front of Gummy like how he did when he proposed to Bettinna. The whole scene left all of them in tears! Bettinna shared in one of her Instagram posts:
"This was an answered secret prayer for me. One I never told anyone but the Lord. One I asked from Him twice. I asked God to confirm that if Mikki really is His best for us that he would give Gummy a ring too. After all he is not just marrying me but her as well. God heard and heeded my prayer. Hallelujah!❤"
Mikki and Bettinna waited for this moment for so long–to bind themselves as husband and wife in front of God and family–and it felt so victorious! They both couldn't hold back their tears as they first saw each other all made up, looking so dashing and beautiful. Ah, this moment is indeed the culmination of all the challenges that they went through! What a beautiful scene to immortalize and be grateful for.
Before joining her mom down the aisle, Gummy first played the wedding march for Mikki and Bettinna. The couple chose the song "Way Maker", a Christian song, to serenade them as they walked towards a new life together.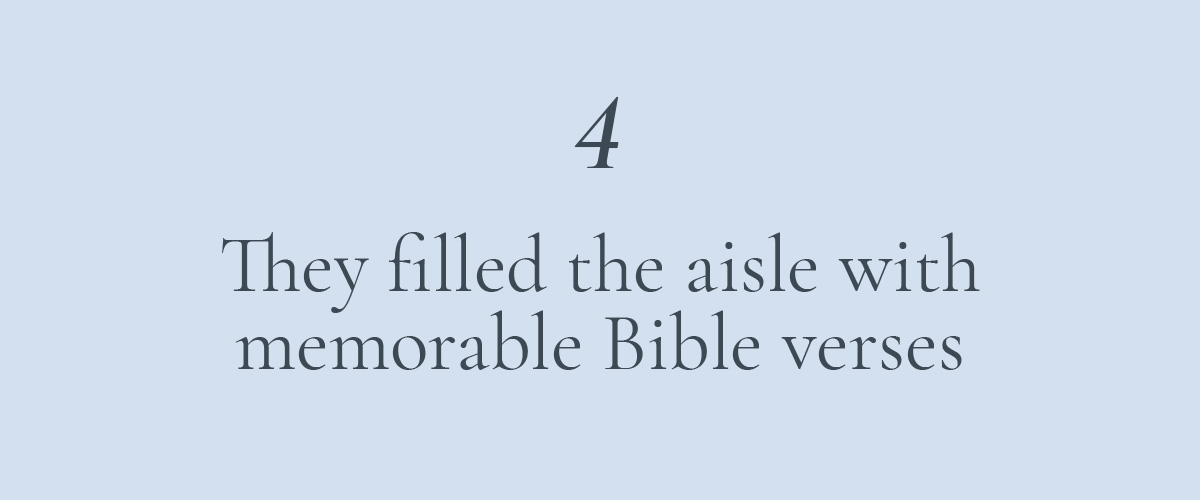 More than just a decoration, Mikki and Bettinna lined up their favorite verses down the aisle as a guide, reminder, and praise to God for the blessing of marriage and faithfulness in their lives. Each verse was beautifully written in script, adding meaning to the all-white minimalist themed aisle that led them to the altar.
Though Mikki's dad and brother can't celebrate with the couple on their special day, Mikki and Bettinna made sure that they were remembered and honored by reserving two empty seats for them. They even placed some drink on their supposed seats as a way to celebrate with them in spirit.
It was very evident in their wedding details that family and faith are very important to the couple. They made sure that everyone was happy and comfortable and that their wedding day was not only memorable for them, but also to their guests. They treated them with good coffee, a clean wedding aesthetic, and lots of laughter, stories, and tear-jerking moments they will forever remember. Scroll through the rest of this set and take note of the details and moments you want to add to your own wedding board.
Photographer: Chestknots Studio / Venue: Tagaytay Highlands /  Bride's Dress: Celline Bautista / Makeup Artist: Lala Flores /  Styling: Ginger Events Styling / Cake Baker: C Kitchenry Culinary Studio / Wedding Coordinator: Teena Barretto