Congrats! You've ticked off so many things from your wedding planning list and you've done a really good job! But now that you're thinking of what to give your entourage and wedding sponsors, you suddenly feel like you've hit a very high wall—you feel stunned and clueless. Don't worry, we feel you! The pressure is real because these are the people whom you've looked up to and who've helped you in countless ways in your life, and you just want to give them a gift that will show your and your soon-to-be husband's gratitude and appreciation. So to help you out, we came up with a few practical questions you can ask yourself when deciding what gift to give. And, to jumpstart your gift hunting, our friends from The Masonry listed down some chic and modern gift suggestions you can choose from. Check them out!
What makes thinking of a gift challenging is the idea that your entourage and sponsors already have it all. While this thought might be daunting, always remember that a useful, classy, and of quality gift will never go to waste. So before you do any purchase, go through the following questions below to gauge if your pick will be a great gift that your entourage and sponsors will love to receive on your wedding day!
Is It Useful?
If you're unsure of what your entourage and sponsors will love to receive, give them something that they can use in their own beautiful home. By doing so, it's more likely that your gift will not stay inside the storage cabinet.
Is It Timeless?
Choosing items that have a classic look and color makes a gift useful for a longer period of time. Your entourage and sponsors will also find it easier to fit the item in their current space. 
Is It Valuable?
You don't always have to go for items that are overly expensive. When you choose a gift that is of good quality, your entourage and sponsors will feel valued and thought of.
Will They Remember You by It?
You'd want your wedding day to be remembered by your entourage and sponsors very fondly and one way to do that is to give them a gift that will represent your wedding day. Is your gift idea unique enough to be remembered? If yes, then it's a good pick!
Here's a brand that carries well-crafted and unique items that will definitely pass all the questions above! The Masonry makes useful marble decors that will make any home or space look elegant, chic, and neat. Made from imported high quality marble from different parts of the world, all of their products have a very sophisticated look and feel that is very easy to fall in love with. So scroll down to know more about the brand and start shopping for your entourage and sponsors! They'll surely remember you for it!
1. Laura Tray Nero and Blanco (Php 2,795)
Dimensions: 20cm x 20cm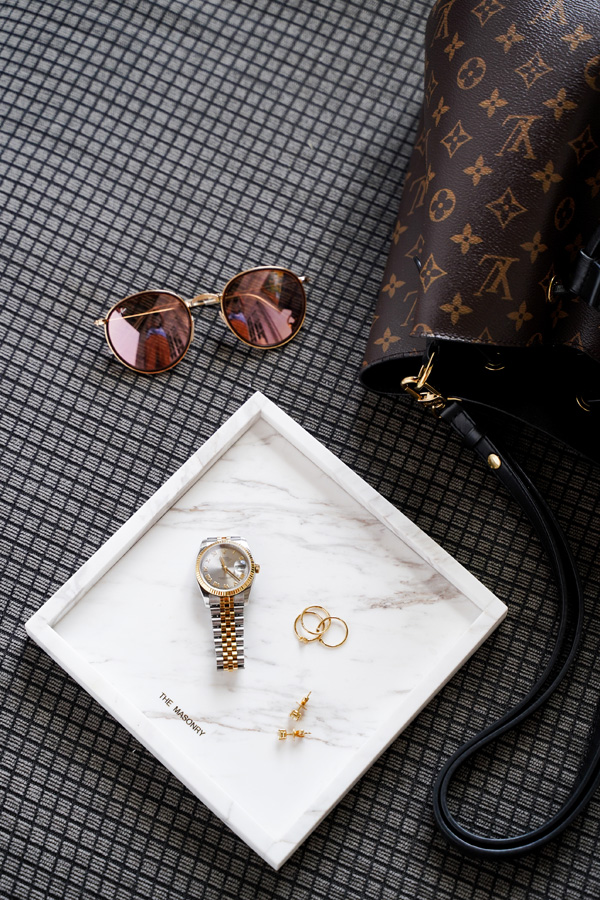 2. Leaona Trivet Nero (Php 1,095)
Dimensions: 40cm x 14cm x 1.5cm

3. Martina Bookends (Php 3,095)
Dimensions: 20cm x 12cm x 7cm

4. Luisa Tray (Php 3,495)
Dimensions: 36cm x 26 cm

5. Carina Tre (Php 1,795)
Dimensions: 25cm

6. Carina Trivet Grande (Php 1,095) 
Dimensions: 25 cm; Colors: Nero, Blanco, Verdi, Serpeggiante

7. Carina Quattro (Php 1,795)
Dimensions: 25 cm

8. Carina Due (Php 1,350)
Dimensions: 25 cm

9. Carina Trivet (Php 795)
Dimensions: 18cm; Colors: Nero and Blanco

10. Soap Dish (Php 495, Minimum order of 10 pcs.)
Dimensions: 10cm x 10cm; Colors: Nero and Blanco

Aside from locally made products, The Masonry also carries a few imported items in limited quantities that can be a perfect gratitude gift for your mom or soon to be mother-in-law! You're welcome!
The Masonry is giving away FREE soap dishes for the first 50 Bride and Breakfast customers with a single receipt purchase of P3,000 and above! You can order through their Instagram or Facebook accounts, or send an email to themasonryph@gmail.com. You'll regret it if you let this chance pass! Happy gift hunting!