The -ber months are here, and that means a darker color palette, don't you agree? We're saying goodbye to the bright summer colors and turning to more bold and jewel-toned color combos. I know we're not in the US, but I can't help but see all these lovely fall colors on my feed lately. So for the adventurous and bold bride who wants to stray away from the usual pastel color scheme, this one is for you!
1. Beautiful Browns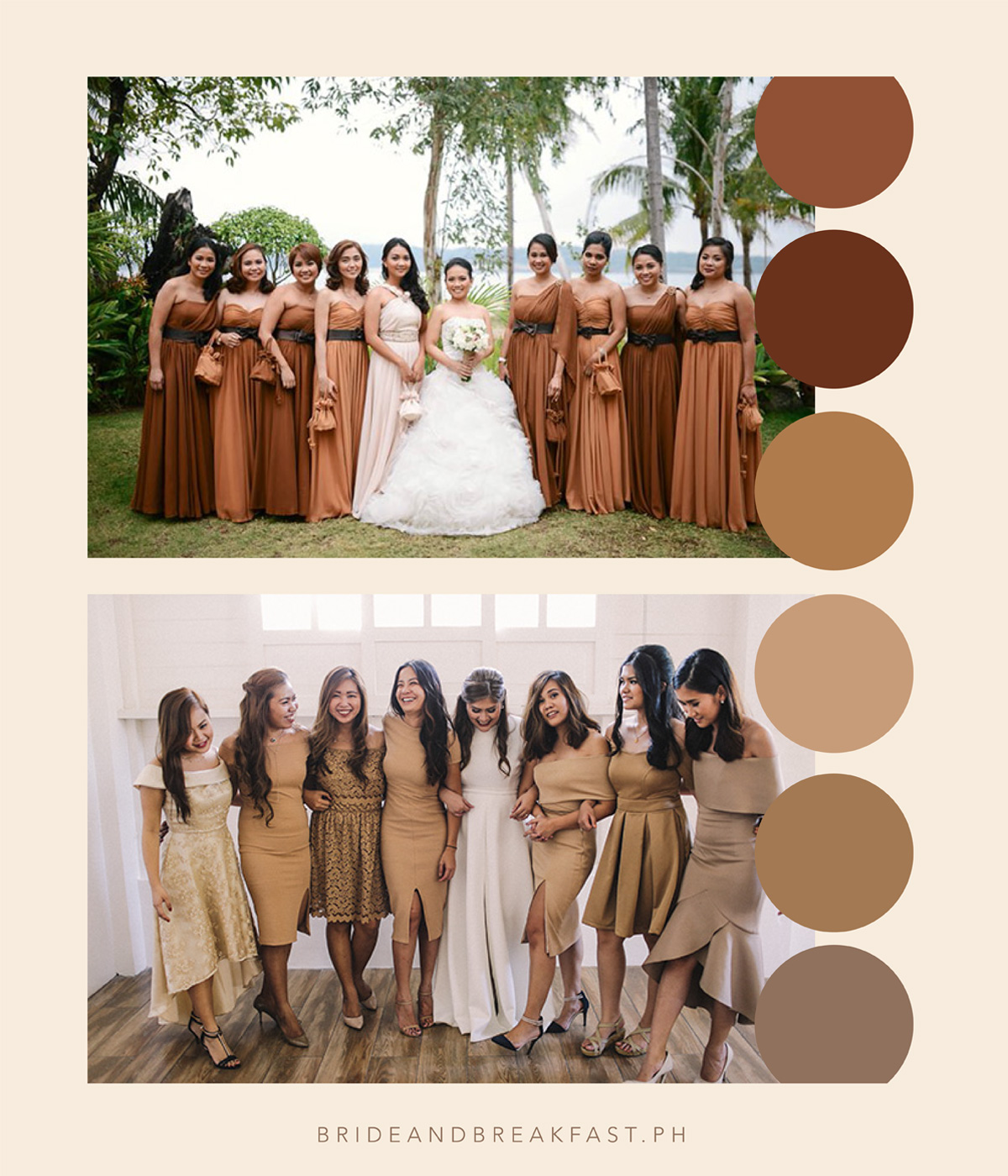 Here's a color scheme we don't normally see in weddings. Maybe you're thinking that brown can look boring and drab? Well, brown can actually be such a rich and beautiful color. Just make sure to choose the perfect shade and the perfect accompaniments too. Whether it's some greens or whites, some glitter or texture, find a way to make this lovely color shine!
2. Bold Burgundy
Ah, who doesn't love this striking burgundy palette? With a bold color like this, you don't need to do too much with it. Keep it simple by incorporating it in your flowers, bridesmaid dresses, and perhaps your napkins or place settings. Just some hints here and there will truly add a pop of color to your big day.
3. Enchanting Emerald
Since modern and minimalist weddings are all the rage now, green is getting more popular as a wedding color motif. And I can totally see why! Look at these eye-catching emerald green dresses! This color is so elegant, it practically oozes sophistication. Like burgundy, you don't need to do much with it either. Have leafy greens present, and you're practically good to go!
4. Opulent Orange
Orange is a color that is usually predominant in tropical weddings. But that doesn't have to be the case! Go for muted tones and an almost rust-colored orange for your classic romantic wedding, and you just might be surprised with how classy it looks. A natural color pairing with orange would be white, as orange can practically stand on its own.
5. Vivacious Violet
Back in the olden days, creating a purple pigment for clothes and other materials used to be so expensive that only kings and queens could afford them. And even though purple is now accessible to everyone, this deep dark violet still screams luxury and class. Pair it with silver and crystals, and it's a match made in oh-so-chic heaven. You can also try more muted colors such as blush or pastel pink to try to offset the brightness of the violet. Or, you can stick to this one color too, no problem!
6. Wonderful Wine
Look at a glass of red wine and tell me that you don't think the color is sexy. I wouldn't believe you if you did. With this deep, dark red–somewhere in the middle between maroon and burgundy–you can definitely do no wrong. Insert some wine-colored flowers as accents, and you'll have one classy, sophisticated, and luxurious celebration.