Sunnies Face Brand Manager, Jess Wilson and her long-time boyfriend Moritz Gastl just got engaged on a beautiful island in Papua New Guinea and we couldn't be more excited! It was a lovely proposal by the beach, followed by an instant celebration with their closest family and friends. We couldn't wait to hear how this engagement went down so we asked Jess to spill all the details! Find out how Moritz pulled off this super sweet proposal!
We met in October 2011 in Maastricht when I was on exchange from Sydney university and he was studying there. We then did long distance for a year: I was living in London and he was in finishing up in university. We did monthly  trips to see each other for a year. Then in 2013 I said I wanted to move back to the Philippines and he said he'd love to come along. He had never been to Asia before and came thinking he'd check it out for 6 weeks but he hasn't left since.
[We were on] a random weekend trip to visit my sister and her husband who's currently working on a project in Papua New Guinea. We had booked in two weeks earlier. Moritz was just there for two days and two days before, [he] almost wasn't even going to make the trip because of some travel issues so I really had no expectations. My brother-in-law Arthur had always said we'll do the boat trip when [we] come visit so I didn't think Moritz had anything to do with it but it was actually the last voyage out of the boat as they had just sold it.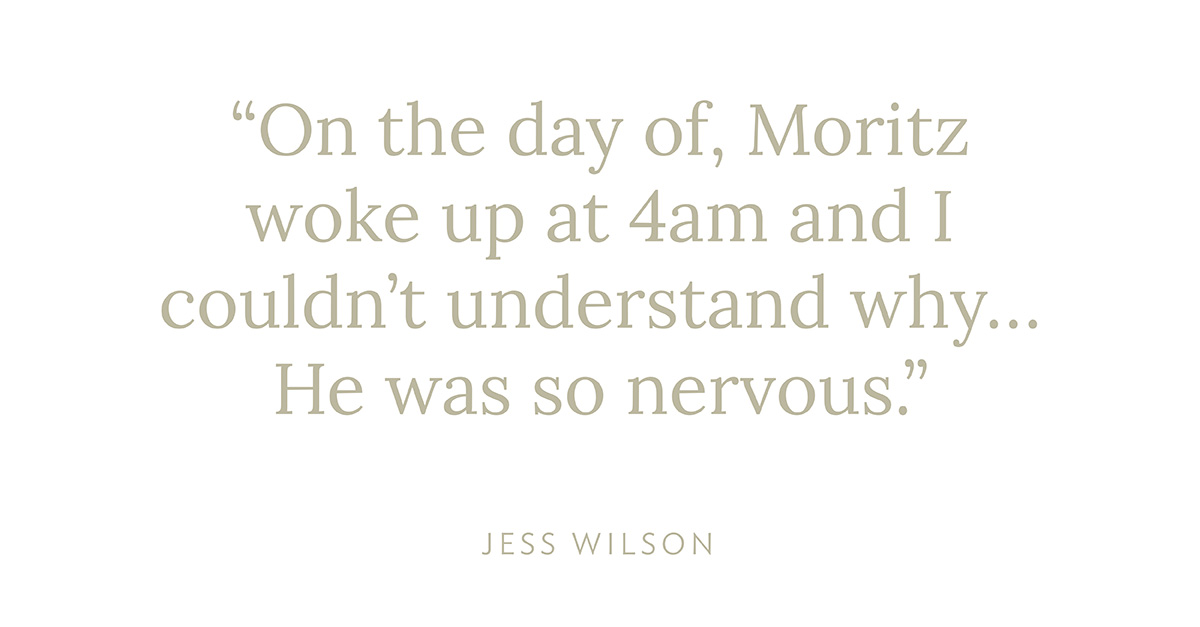 On the day of, Moritz woke up at 4am and I couldn't understand why. I slept in till 9 and said that was the best sleep of my life. He was so nervous. Now that I think of it, there were some weird things. My sister also pretended to do an apartment building tour for him that morning and prepared me breakfast so I wouldn't join them. That's when she asked all the details of his plan so she could help him set it all up.
I was totally unaware but as soon as we got to the island, I started doing cartwheels with Archie and his nannies and kept bugging Moritz to do one. He kept saying no so I finally gave up and started to take pictures of us instead haha I didn't know it was because he had the ring in his back pocket!
He then asked if we can walk to the tip of the island to explore. I said ok but only if I can bring Archie haha so half way through, Arthur ran to get Archie to pull him away from us since he knew the plan. His excuse was that Archie needed a hat under the sun and brought him back to the group. So it was just us two walking and I remember having the most random conversations and asking what he would do if pirates were at the end of the tip and kidnapped us!
But he was a great actor. He said he was so nervous but I didn't see it.
We got to the tip and I thought "This is really romantic." I looked at his shorts and couldn't have imagined he had a ring box in there so I didn't think anything would happen. He also teased and said let's race back, which I agreed we should do. Then, he quickly said "Nevermind it's way too hot." So we hung out for a few minutes and walked back to the group, at which point I thought the time had passed. But he got my arm, turned me around and started with some speech I can't quite remember now. He was so nervous and I completely didn't believe him–I even walked away a few steps then turned back and figured he was serious. He pulled this beautiful box out of his swim trunks and I couldn't believe it!
The first thing that popped into my head was "I can't believe this is really happening!" and "Why am I not bawling in tears right now?" We had small tears but I was in shock and I think he was too. Walking back I asked him to tell me everything about leading up the proposal–asking my dad, buying the ring, who knew etc. We got back to the group and shared the good news and that's when I started really crying.
He chose Fisherman's Island because he knew Papua New Guinea would have a special role in our family and would be a unique place to propose. It's a very untouched area. He also knew I wanted to be with my family for this, that I love being out in the water and on a boat, and that it was completely unexpected for all the reasons I mentioned.