Hey there ladies! We already gave you a few pointers and ideas for styling your reception to perfection, and today we're dishing out some tips on how you can have the most delightful wedding reception table that is both Pinterest and Instagram-worthy! I've been gushing all day about these beautiful sets, and I can't wait for you to see all of them. Go grab a pen and paper, and take down some notes!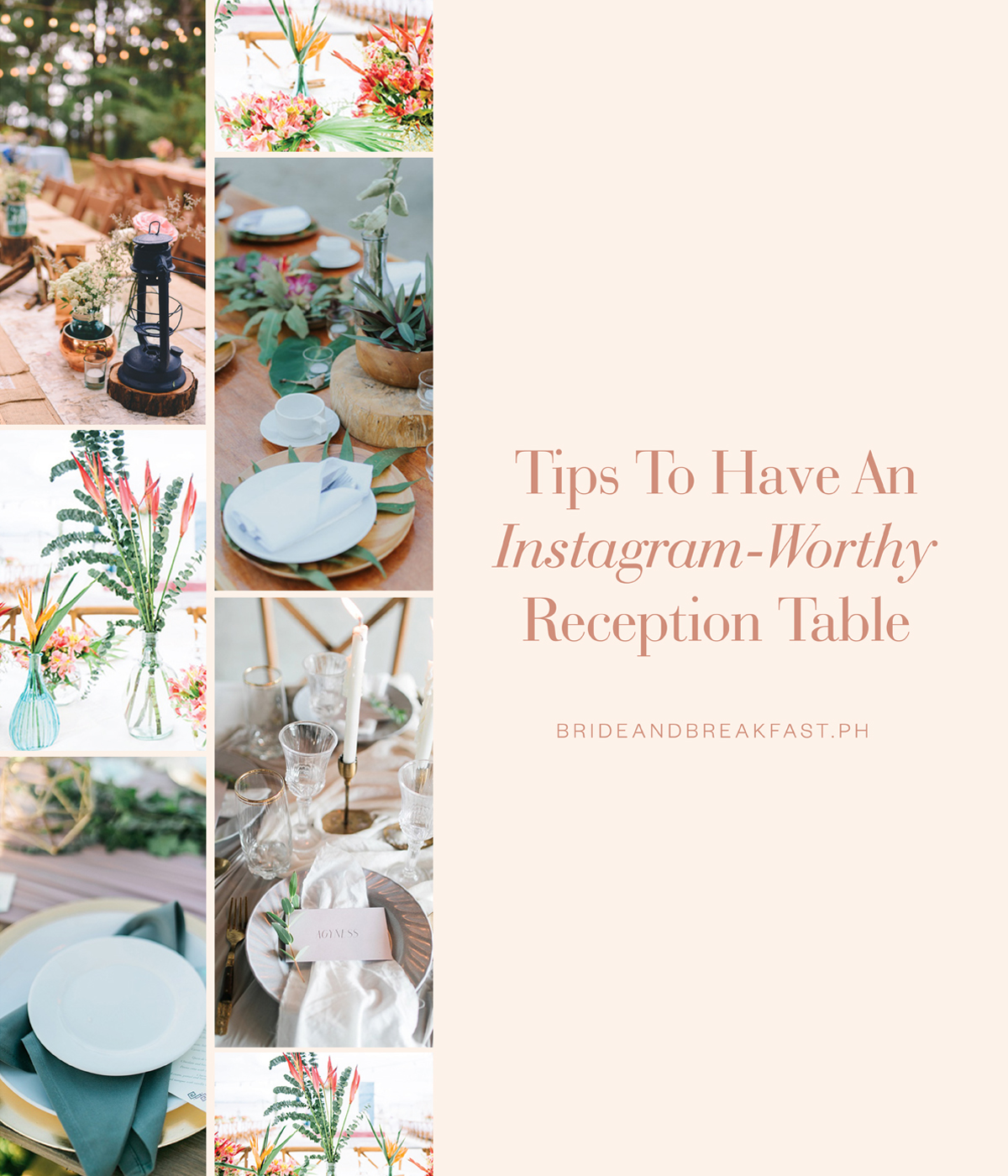 1. Know what's trending
Is it agate? Succulents? Tropical leaves? Choose something that suits your style, and incorporate it into your table setting. Depending on the mood you're going for, you can even choose to mix and match with different elements of different shapes and sizes!
2. Don't be afraid to use patterns
For an elegant yet modern look, pair bold colors with stylish patterns. And don't be afraid to play around with multiple ones. As long as they share the same palette or color scheme, it should be okay. So, if you're torn between stripes and florals, it's definitely cool to go for both! We would also recommend talking to your stylist for tips!
3. Choose a good table runner
Table runners add a sophisticated look to the table, and can actually help dictate the whole look. Runners can vary in fabric, material, or length, and to make sure that it looks aesthetically pleasing, try matching it with your tablecloth, placemat, and/or napkin.
4. Have an accent color
Since color plays a huge factor when it comes to setting up the overall mood, you should pay as much attention to accent colors as you would to the rest of the reception table decor. To make sure you don't overdo it, I suggest that you add a pop of color to the little details such as a plate, centerpiece, or flowers!
5. Play with texture
One of the top wedding style trends this year is texture. It's not as loud and bold as accent colors or centerpieces, but it's just as dramatic. You can layer different linen textures and match them with table top pieces that have a classic and sleek design. Or if you want something different, you can choose to go bold by matching different textures and patterns!
6. Get the best plates
If you've been following B&B for a while now, you probably know that we care a lot about the details. So, if you want to keep the focus on your reception table, get the prettiest plates with either etched or embossed patterns and pair them with complementary flatware.
7. Make room for some flowers
Ditch the fake flowers and brighten up the mood by using real ones! This much color would look great on your feed, and the natural fragrance is a huge bonus! You can also get creative with the vases by recycling mason jars, bowls, tin cans, or teapots!
8. Go classic
Don't be scared to try a minimalistic style because classic pieces are timeless. The key to minimalist styling is choosing items that bear more quality than quantity. It doesn't mean that you have to stick with one single style or design. As long as you keep the color combination to a minimum, and choose the right accent pieces, minimalist tables can go from boring to chic!
9. Switch to copper
Copper is the new gold. It's striking color is really meant to stand out–so to keep everything balanced, make sure that you set up your copper pieces against plain and simple backgrounds. P.S. – Look for satin or brushed copper pieces because they look so regal and stylish!
10. Make it monochromatic
Monochrome has been going in and out of trend, and I think it's because we all can't get enough of it! If you're worried that sticking to one color would be too bland, playing around with different textures and materials that are still under the same color scheme should do the trick!