Did you want to make your intimate wedding stand out? Well, one option you can go for is to splash your wedding with bright colors! While the soft, light-colored tones are the classic choice for style, vibrant colors can give a unique character and lively ambiance on your special day. Mixing and matching two luminous shades or going full blast with contrasting hues can sound daring, but this bold attempt can create a fun and chic vibe to your micro-wedding. Whether it is a perky autumn-inspired flower installation, mounting neon lights on the day, or making your entourage wear multi-toned dresses – playing with colors can certainly make your wedding be the talk of the town! If you are unsure where to start, keep scrolling to see these 10 colorful micro-weddings and get inspired with their unique approach to colors! Check out these ideas and see why going all out with striking shades is a definite 'yes' for your upcoming wedding!
Ginger and Nicole
This couple braved a colorful, classic romantic styling and filled their home with dashing florae installations. Ginger and Nicole's flower backdrop was loaded with shades of purple and pink, while red and orange dominated the reception table. Both color palettes made their overall intimate wedding a dreamy, memorable one!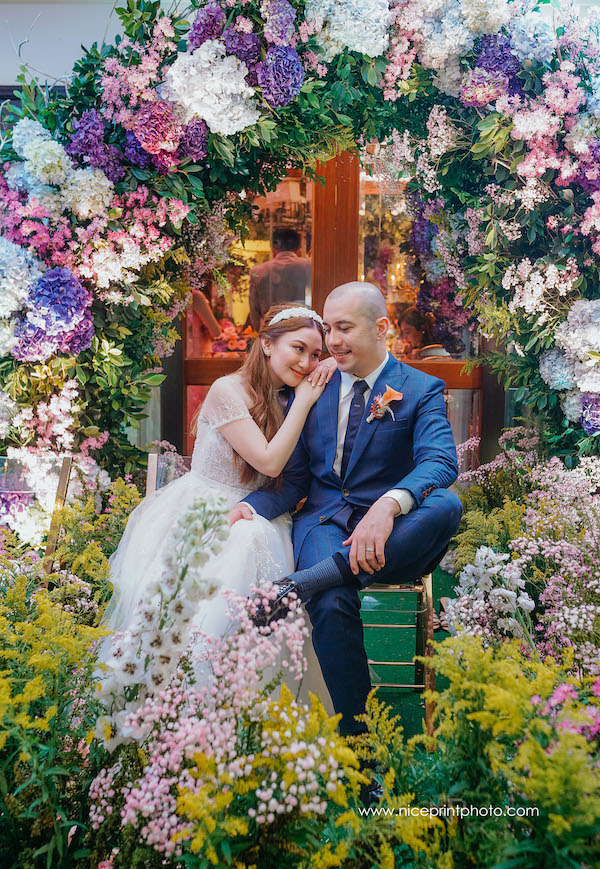 Borgy and Dindin
This couple played around with diverse shades of peach and coral for their wedding. From a vigorous colored bouquet to a wistful hued floral arch, all chromatic elements created a magical ambiance for Borgy and Dindin's big day.
Mico and Jackie
Mustard yellow and red-orange gave life to the wedding of Mico and Jackie. They chose to pair it with dried pampas and leafy foliage, which completed the whole enchanting autumn theme that the couple were aiming for.
Andrei and Karla
From invitations to entourage dresses, lively orange and peach brought in so much energy to this wedding! Andrei and Karla balanced it out with a purple and blue neon sign backdrop used for their festive reception.
Vince and Anika
If you are going for color, then really go for bright colors! Just like these vivid wildflowers present in Vince and Anika's wedding. Magenta, yellow, burnt orange gave the intimate wedding at home with a classy summer solstice look!
Max and Mica
Max and Mica's retro vibe wedding was indeed a feast for our visual senses. Neon lights formed in various shapes illuminated the venue with orange, purple, blue, and pink tones and gave a cozy, playful mood in an empty studio.
Robert and Grizelle
Shades of pink and peach, with pops of yellow and orange, are the colors that made everyone talking at Robert and Grizelle's wedding! The chic bridal bouquet, centrepieces, and backdrop were all looking evenly stylish and we are in love!
Greggy and Bianca
Who says you can't have a rainbow at your wedding? Greggy and Bianca were not afraid to go all out and put together more than three contrasting tones for their intimate union at home. The neon sign, cake, bridal bouquet, and the groom's necktie all look so full of spirit!
Tada and Naia
While green was the dominant color, hints of pink, yellow, coral, and purple created a summer aura in Tada and Naia's indoor reception. This tropical wedding color palette they used is a natural treat for the eyes.
Michael and Kath
Striking peach and pink, with orange and green tipoff, all worked well together in this intimate wedding done in the couple's living room. The glowing fruit feast and floral installation did a perfect job creating a jaw-dropping styling for Michael and Kath's special day.