Jan and Roz aren't your traditional couple and their wedding wasn't a traditional one, either. And this is exactly what made their wedding special, intimate, and memorable. Though based in Bangkok, Jan and Roz planned their wedding in the Philippines seamlessly and were keen to make every detail meaningful. So Roz made sure that her suppliers were people she knew personally. Her dress, which was made by a former schoolmate and friend, sported a flowy gray tulle facade, taking inspiration from her ashy-gray bob and eagerness for comfort. The gown perfectly complimented her entire look and made her personality and elegance shine on her wedding day. Her bridesmaids' dresses in blush (also made by a friend) were pieces Roz wanted to make sure they could wear and reuse in the future. While their wedding had no program (not even a cake!), the couple exuded comfort, grace, and a contagious positivity that made all their guests have the best time. Scroll on to see an exclusive interview from the bride herself and photos perfectly encapsulated by Proudrad!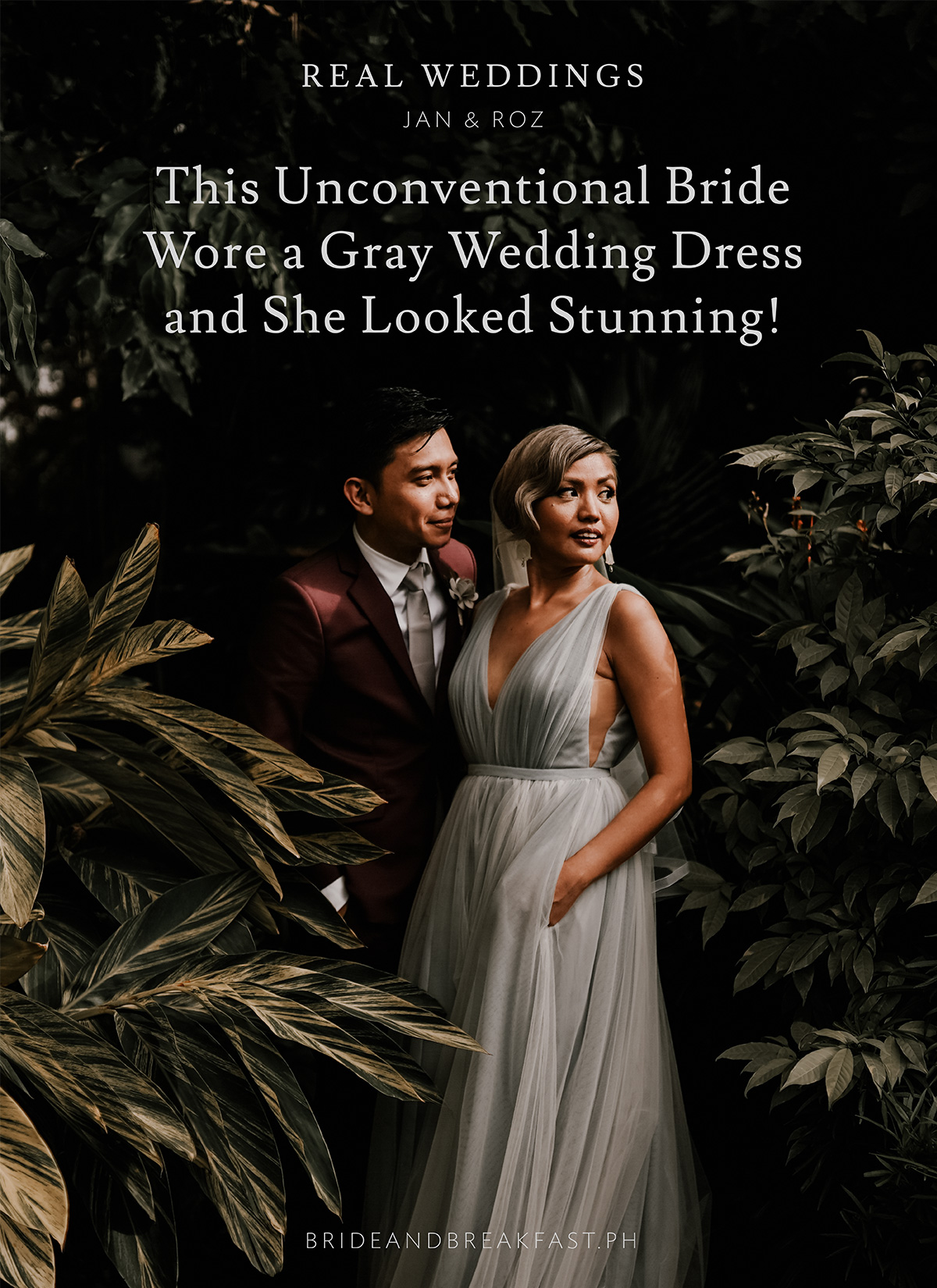 We love your dress! What was your inspiration behind it?
"There were only two things that I kept in mind as I was planning out my dress:
1) I did not want a white dress. Our wedding was not a traditional one. We had no program. We did our "post-nup" shoot before the ceremony because we didn't want our guests waiting for a long time before dinner. We didn't even have a wedding cake cause no one really eats that. And as a couple we are also not very traditional. I've been sporting an ashy-gray short bob for years now and so I looked through Pinterest for gray-colored bridal gowns to match my hair and found lots of great inspirations that I discussed with the designer.
2) I wanted to be comfortable. I wanted to be able to move around freely, from the aisle to the party, which meant no long and heavy trains or long veils. I also did not want any bead work or lace details on my dress because those tend to make me feel itchy. I also made sure to have pockets so I can keep some of my valuables with me.
Throughout our wedding planning, my husband and I were living in Bangkok and I got super lucky because I came across the bridal shop that a former friend from school owns (I studied there for a few years back in high school). So that made it easier to work on the dress."
Can you tell us about your love story?
"My husband and I met in a retreat back in 2012 but didn't become friends immediately. We were both in a relationship then and so the only way that we really "connected" was by being FB friends. And then in 2014, when we were both single, a common friend tried to "seed" to the both of us to give dating each other a try. And well now here we are. We got married in a civil ceremony in 2017 and did our church wedding two years later so we could celebrate with more of our family and friends."
How were you inspired to come up with your bridesmaids' gowns?
"Similar to my dress, I wanted to make sure my MOHs and bridesmaids were comfortable in their dresses and I wanted them to wear something they can wear again in the future.
I got their dresses from a friend's shop. The concept of their store is you can buy off-the-rack and they will alter the dresses to fit you perfectly–all for free! So I chose designs that were already available and my bridesmaids and MOH just had to do their fitting. The bridesmaids had a 2-piece ensemble–a cropped top and a ball skirt that they can mix and match with other pieces whether for casual or formal wear later on.
For my maids of honor, I chose a one-piece dress that can actually be styled in different ways.
The color palette for our wedding was a mix of blush, nude, and gray. My bridesmaids wore a gray and pink combo while my MOHs wore pink dresses. These went really well with my gray dress."
What was the hardest part about planning your wedding?
"The hardest part was really planning everything while we were living abroad. We made the conscious choice to try to get friends for suppliers as much as possible so that we can support their businesses, and it also helped us because it made the planning easier. We were blessed because our events coordinator was my tita and she helped us with a lot of things especially when it came to the church requirements. My dress was made by a friend from Bangkok. The dresses of my MOHs and bridesmaids were made by a former officemate. My bridal boots also were from a friend who mostly sells pole dancing shoes (and my feet didn't hurt AT ALL despite all the dancing that I did). Our awesome videographer was a friend of my husband's. My earrings were custom-made by a friend who owns a jewelry business. My hair and makeup was done by my long time hairstylist-turned-friend. Our DJ is also a friend of my husband's and he was amazing! So we were really happy working with people we could trust."
What will you remember most about your wedding?
"What made us really happy was seeing all our guests enjoying the food (which was delicious – thanks to K by Cunanan) and really enjoying the party (again thanks to the amazing DJ Joey Santos). Some of our guests said that they loved the chill and relaxed vibe of the wedding. Others said it was the happiest wedding they've ever attended. That was really the only thing we wanted – for the both of us and all of our guests to have the best time."
Click here to visit the directory